Two US Navy jets crash in W. Pacific: 1 pilot injured, 1 missing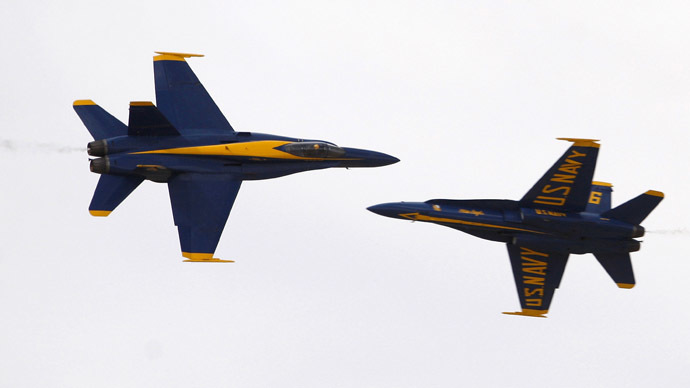 Two US Navy F/A-18 Hornets have crashed in the western Pacific Ocean, the US Navy has confirmed. One pilot has been rescued, while the second is still missing.
"Two F/A-18 Hornets from Carrier Air Wing 17 embarked on the aircraft carrier USS Carl Vinson (CVN 70) crashed at 5:40 p.m. local time, today, while operating at sea in the western Pacific Ocean," said a statement from the US Navy.
#BREAKING MT @US7thFleet: #USNavy F/A-18 Hornets crash in Pacific Ocean. We will continue to release updates. http://t.co/hOarswxHHJ

— U.S. Navy (@USNavy) September 12, 2014
Two warships – the cruiser USS Bunker Hill (CG 52) and guided-missile destroyer USS Gridley (DDG 101) – are aiding with the search for the second pilot, along with several helicopters.
Neither of the Hornets has yet been found and the cause of the crash is still being investigated.
The pilot who was found was quickly returned to the USS Carl Vinson to be treated, according to the statement.
Carrier Air Wing Seventeen (CVW-17) is a United States Navy aircraft carrier airwing based at Naval Air Station Lemoore in central California.
Two serious naval jet crashes happened as recently as June. A US Navy Super Hornet jet fighter crashed in the Pacific Ocean off the southern coast of California at the beginning of the month, during which the pilot "ejected safely" according to a statements made by the US Navy at the time.
Earlier the same day, the Third Marine Aircraft Wing AV-8B Harrier crashed into a residential area in Imperial Valley, Southern California. The pilot also ejected safely but at least two houses caught fire.