Hikers airlifted from massive wildfire in Yosemite National Park (PHOTOS, VIDEOS)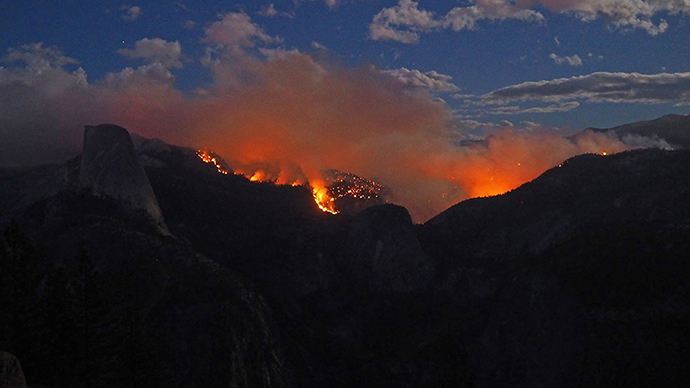 Helicopters rescued around 100 hikers and backpackers from some of Yosemite National Park's best-known trails ‒ as well as 85 hikers and climbers on the iconic Half Dome peak ‒ after a wildfire rapidly grew to 2,500 acres.
The fire, called the Meadow Fire, is burning in the Yosemite Wilderness area of the park. Helicopters and teams from the California Highway Patrol, US Department of Agriculture Forest Service, Sequoia & Kings Canyon National Parks, and CAL FIRE participated in the rescue mission on Sunday, according to the National Park Service (NPS). They used four heavy and three medium helicopters, an air attack aircraft that helps coordinate other aircraft working the fire, and three air tankers.
Meadow Fire began around noon on Sunday, to the east of Half Dome, the park's towering granite formation that is among the most known features in Yosemite. NPS reported the cause was likely a lightning strike. The blaze quickly grew to 700 acres, with smoke billowing hundreds of feet into the air. By Monday the inferno encompassed at least 2,582 acres of rugged terrain.
The new Meadow wildfire at Yosemite National Park has a smoke plume visible from space. #MeadowFire#cawx#Yosemitepic.twitter.com/CrTk5zAKty

— NWS Sacramento (@NWSSacramento) September 7, 2014
"As soon as the wind was catching it, the flames were 200-foot high," Mark Fidler, a hiker who was airlifted to safety, told KFSN. "It was pretty scary at points."
Our ride off half dome. Insane day watching the fire. 80 people evacuated to safety. #yosemitefire#HalfDomepic.twitter.com/ZpIq4lk9AR

— Teresa Yung (@tnyung) September 8, 2014
"There's no helicopter rides in Yosemite Valley so you either have to be injured or need a rescue so that was really interesting," Delaware North Companies spokesperson Lisa Cesaro, who was hiking on Sunday, told the ABC affiliate. "It was amazing. You could see Half Dome, you could see the flames and the smoke from the fire. I will definitely remember it."
First ranger dropped off with water supplies while the rest of the rescue squad went to tackle the fire. Hats off to Yosemite evacuation crew, nicely handled. #loneranger #intothesmoke #yosemite #halfdomefire
Michael McCall and a group of his friends hiked up Half Dome, reaching the summit by noon. They were almost finished with their hike at 4:30 p.m., when they saw the rescue helicopters, as well as deer running away from the fire the 24-year-old Texan told KNTV.
"We started chuckling at first," he said. "We just didn't realize how serious it was."
"Conquered #HalfDome in #Yosemite on 2 hours sleep with these guys today. Easily the physically hardest thing I've ever done. We outran some forest fires, dehydration, and knee problems. And I'm never doing that again…" McCall wrote in an Instagram post.

Stranded on half dome #Yosemitefirehttps://t.co/8Tb7kBnXzu

— Renee Rodrigues (@ayenaynayy) September 8, 2014
Closed trails in the park include Echo Creek Drainage to Little Yosemite Valley, Sunrise Creek Drainage to Little Yosemite Valley (John Muir Trail), Merced River Corridor to Merced Lake Ranger Station, Nevada Fall east through Little Yosemite Valley along the Merced River corridor, and Sunrise trail to Clouds Rest from Tenaya Lake.
Great crew to be stuck on half dome with. Now just awaiting our personal helicopters. #halfdomefire #survivors #freehelicopterride
NPS is warning visitors of heavy smoke impacts in the Yosemite Valley. "Fires of this magnitude, in this area of the park have in the past produce heavy smoke that drains down into Yosemite Valley, so be prepared for smoke in the Unhealthy AQI range or worse in the mornings, with some clearing in the afternoon hours," the agency wrote in a blog update.
The South Central Sierra Interagency Management Team will begin management of the fire on Monday evening. Over 100 firefighters have been assigned to the Meadow Fire, including Yosemite fire crews and six Hot Shot crews, NPS said.
You can share this story on social media: