Broke Detroit firefighters using empty cans for emergency alerts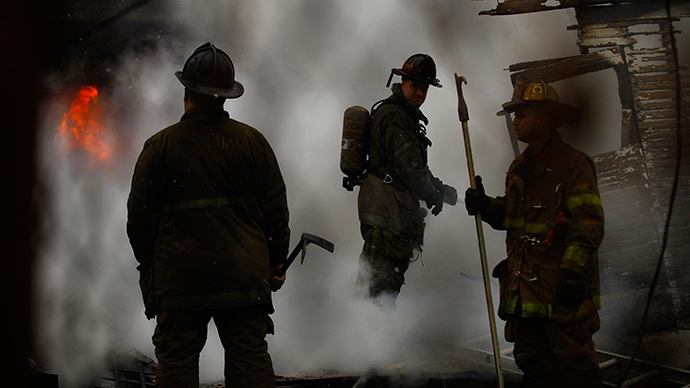 Anyone doubting the scale of Detroit's bankruptcy woes may be surprised to discover the city's firefighters have set up intricate, makeshift contraptions involving empty cans just to ensure emergency alerts are delivered properly.
Most fire departments in the United States operate using modern systems that announce emergency developments through a series of bells. In Detroit, however, none of the city's 38 firehouses have such a system, and the lack of available cash has forced firefighters to come up with new ways to make sure they get alerts.
In some cases, firefighters place an empty soda can next to their fax machine so that when an incoming fax is received, it tips the can over and falls on the floor, the Detroit Free Press reports. Other cases see them rigging a pipe near a printer and having it whistle. In probably the most depressing set-up, there is what the newspaper termed the "chain-reaction gadget:"
"A fax hits a door hinge, which then tugs on a wire, which then sets off a door bell."
READ MORE: Detroit resumes water service shutoffs for cash-strapped residents
These revelations surfaced on Friday, when Detroit recovery consultant Charles Moore testified at the ongoing bankruptcy hearings. Moore relayed the empty-can anecdote in order to stress that when the city is ready to spend $1.4 billion on upgrading services following bankruptcy, outfitting the fire department with new technology is paramount.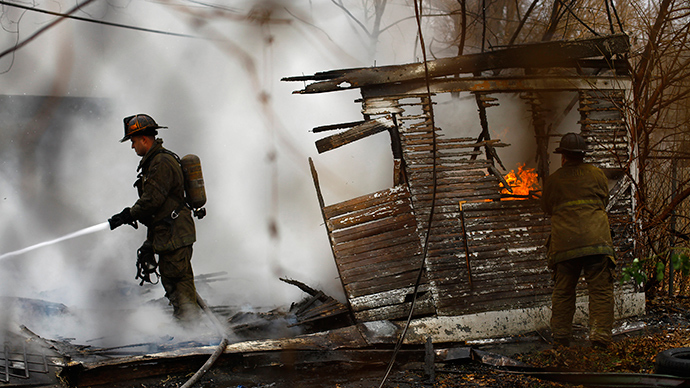 Moore's stories were then confirmed by Detroit Deputy Fire Commissioner John Berlin, who said his colleagues have to go to hardware stores on their own to buy items for crude alert systems.
"It sounds unbelievable, but it's truly what the guys have been doing and dealing with for a long, long time," he told the Free Press. "We're in desperate need. We're probably 30 years behind."
"But because we've improvised, that never became a priority," he added, referring to upgrades. "It's been that way since way back. Unfortunately, we fall back on tradition far too often."
The state of the fire department is particularly alarming for Detroit, which sees anywhere between 11,000 and 12,000 fires a year, according to a 2013 report by Detroit Emergency Manager Kevyn Orr. Abandoned houses are often ignited by arsonists, taxing firefighters working for a department that has struggled to afford safety equipment at times.
Help support the #Detroit Fire Department and get a cool t-shirt. http://t.co/KIg0xeCt3j

— Housing Policy Watch (@HousingWatchMD) September 2, 2014
The news also comes as two different campaigns are looking to raise money for the beleaguered department. Detroit's Ladder 22 is in the midst of selling t-shirts online to raise funds, and has currently sold more than double its original projection.
"The Detroit Firefighters have been forced to take heavy cuts in pay, decreased pensions, higher pension cost, and massive increases in healthcare costs," the campaign page reads. "What the public doesn't know is that Detroit Firefighters pay for the vast majority of the firehouses household items, out of their own pockets."
It goes on to say that firefighters are responsible for purchasing products like cleaning supplies, paint, toilet paper, and, in some cases, even safety helmets and boots.
Meanwhile, journalist Charlie LeDuff has also launched the "Detroit Firehose Challenge" – a spin-off the ALS Ice Bucket Challenge – in an effort to gather donations for the Detroit Firemen's Fund Association, which helps families of firefighters who have been injured or killed.
Sadly, this is not the first instance in which Detroit's civil servants have been forced to make due on their own. Last October, Detroit Police Officers Association President Mark Diaz said law enforcement officials would be provided only one uniform after they joined the force. Afterwards, officers have to pay for any new or extra outfits on their own.
"The uniform just doesn't stop with the shirt, the hat and the pants," Diaz said at the time. "[P]arts of the uniform such as boots, those aren't covered; and the true quality boots that last and that can live up to the rigors of patrolling in a city like the city of Detroit — that's an extra $300 on an annual basis."