VIDEO: Man refuses to let cops search house without warrant, films police despite protests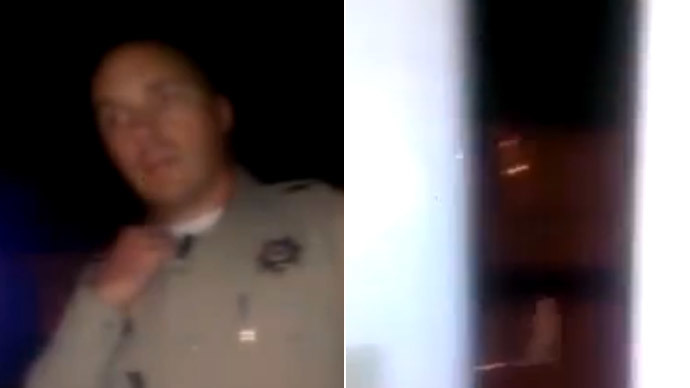 A video recently uploaded to Facebook shows a man demanding a search warrant of police officers at his door who claimed the man could be harboring a criminal. Police in the US are generally required to have a search warrant to enter a home.
Avel Amarel, according to thefreethoughtproject.com, recorded every moment of his interaction with two officers of the local sheriff's department. The officers said they were seeking a "wanted felon" who allegedly beat a woman in the apartment complex where Amarel lives.
Police immediately asked Amarel multiple times to turn off his camera. Each time, Amarel refused, as his right.
Amarel then asked for identification of the two officers, to which one amused officer asked, "Do you want to play games?" Amarel responded, "I'm not playing games."
The officer then says, "I'm going to drag you out, if you…." before stopping, to which Amarel quickly replied, "That's why I'm recording this. Straight to YouTube."
Amarel said only he and his family were in the house, and that he saw the alleged criminal "walk off." Police repeatedly asked for Amarel's proof of identification, which he refused each time and, in turn, asked police for their own identification. Some US states do not require proof of identification unless one is driving a vehicle and the officer has reasonable suspicion of a crime or traffic violation.
Amarel continued to insist that he was not "harboring a fugitive," and that police did not have probable cause. Police finally relented after Amarel repeated that they must get a search warrant before entering.
While law enforcement in the US are usually required to obtain a search warrant to enter one's home, there are circumstances that supersede demand for a search warrant. Those instances include when consent to enter is given by an occupant, during an incident of arrest, or in "exigent circumstance" when there is an immediate threat or danger of injury, or destruction of evidence.
In February, the US Supreme Court allowed law enforcement more search power, ruling that police may search a home without obtaining a warrant despite the objection of one occupant if that occupant has been removed from the premises.