US judge: BP's reckless conduct led to 2010 Gulf of Mexico oil spill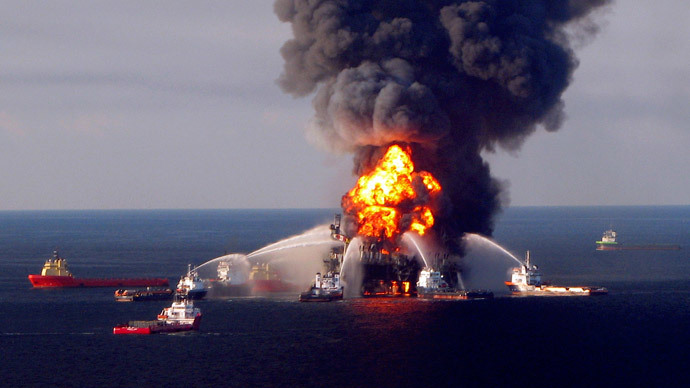 A federal judge on Thursday said oil giant BP acted with gross negligence ahead of the catastrophic 2010 spill in the Gulf of Mexico, paving the way for the corporation to pay perhaps billions of dollars in fines.
"BP's conduct was reckless," United States District Judge Carl Barbier wrote in a decision handed down early Thursday from a federal courthouse in Louisiana.
The four-year-old incident killed 11 people and caused gulf waters that wash onto the shores of five US states to become heavily polluted as oil gushed from the Deepwater Horizon drilling rig for a good three months before the flow was brought to a halt. In all, prosecutors said over 4 million barrels of oil spilled into the Gulf, making it the largest accident of its kind in petroleum industry history. Around 16,000 miles of coastline were affected and, according to the National Park Service, over 8,000 animals died as a result.
Barbier also wrote in his ruling that two other oil companies — Transocean and Halliburton — acted negligent as well, but failed to find them as responsible as BP with regards to the spill. Transocean owned the Deepwater Horizon rig, but drilling rights were leased to BP; Halliburton was in charge of the "cementing" process on the doomed drilling site.
The three companies, Barbier wrote, are "each liable under general maritime law for the blowout, explosion and oil spill," but the bulk of the blame — specifically 67 percent — will rest on BP.
Just one day before his ruling, Halliburton agreed to a $1.1 billion settlement with residents and businesses along the Gulf, removing the corporation from most remaining liability as a result.
"It also allows Halliburton to put the oil spill — especially its litigation costs, uncertainty and adverse publicity — behind the company," Carl Tobias, a law professor at the University of Richmond, told the New York Times this week, "so that it can concentrate efforts on creating innovative technology and increasing market share."
Indeed, Bloomberg Business Week reported that Barbier apportioned fault for Transocean and Halliburton at 30 percent and 3 percent apiece, respectively.
Haliburton's settlement this week, a senior vice president for BP added to the Times, "marks the very first time — despite three years of official investigations and litigation implicating the company — that Halliburton has acknowledged that it played a role in the accident."
According to Bloomberg News, BP may next face fines as high as $18 billion — the maximum penalty under the Clean Water Act — and has already put aside $3.5 billion to cover those costs. Transocean previously agreed to pay $1.3 billion to settle federal charges, the Times added this week, but may now face higher penalties on the heels of Barbier's ruling.
Ed Crooks, a reporter for the Financial Times, reported that BP is expected to appeal the decision. Shares of that company were down by as much as 5.3 percent shortly after Judge Barbier's decision was announced.
You can share this story on social media: