Riot erupts in Nashville juvenile jail after prison break (VIDEO, PHOTOS)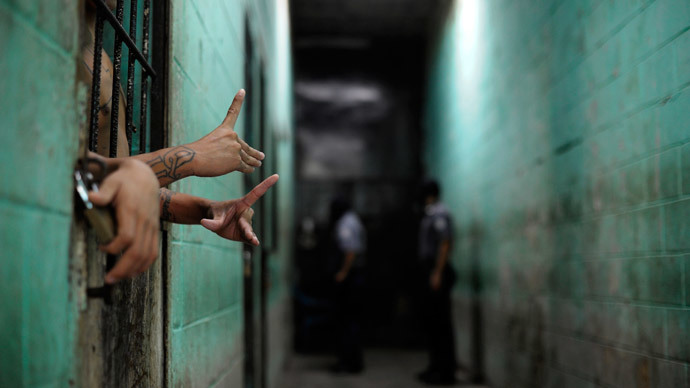 Two dozen teens broke out of a common area at a Nashville juvenile detention center late Wednesday, wandering around the yard inside the facility's fencing with wooden sticks and fire extinguishers. On Monday, 32 teens escaped the same facility.
The teens broke out of their dorm buildings late Wednesday, according to The Tennessean, by kicking out through aluminum panels under windows. This same method led to the Monday night escape of 32 teens held at the facility. As of early Thursday, six of those escapees were still at large.
Five or six teens were first reported on a roof of one of the dorm buildings just after 11 p.m., according to WTVF. Others eventually followed, with over 20 being reported outside the facilities at around 2:30 a.m. Thursday.
After accessing the yard that surrounds the housing dorms, the 24 teens used makeshift tools - including wooden sticks and pipes, according to reports - to try to open other parts of buildings on campus. Some sprayed fire extinguishers into the air, and at least one detainee toppled a Woodland Hills guards in the yard.
Startling images from the hours-long riot after teens try to escape from detention center: http://t.co/zsf54ipkYYpic.twitter.com/z7ai2yeIlj

— The Tennessean (@Tennessean) September 4, 2014
Juveniles at Woodland Hills taken into custody after overnight disturbance http://t.co/ra3BNCNq6gpic.twitter.com/khJQKAh6me

— The Tennessean (@Tennessean) September 4, 2014
Two staff members at the detention center suffered minor injuries, Department of Children's Services spokesman Rob Johnson said.
The Tennessee Department of Children's Services notified officials at the Department of Corrections and the state Highway Patrol, who arrived at Woodland Hills Youth Development Center after 3:00 a.m. in riot gear and to help quash the breakout attempt. A police helicopter was also used to spotlight action taking place on the center's yard. Metro police were also on the scene.
Dept of Corrections, THP, Metro PD all helped get control after teen felons try to escape AGAIN from Woodland Hills pic.twitter.com/lkYu4fiOnH

— Samantha Singer (@SamanthaWZTV) September 4, 2014
The 24 teens were eventually handcuffed and taken into custody. Ten so-called "ringleaders" in the Wednesday night riot were taken to a detention center in Rutherford County, Tennessee, while others remained at Woodland Hills.
Juveniles at Woodland Hills wait to board a bus. pic.twitter.com/zpgbnNUNOT

— Ryan Smith WSMV (@RyanSmithWSMV) September 4, 2014
Teens sitting in handcuffs after the overnight riot at #WoodlandHillshttp://t.co/J1iEkim4Dtpic.twitter.com/hHdB8yzUXk

— WSMV-TV, Nashville (@WSMV) September 4, 2014
Some of the teens were involved in the Monday breakout, though no teens breached the perimeter fence on Wednesday.
Department of Children's Services Commissioner Jim Henry said the facility will be repaired and fortified promptly. He added that the department is reviewing policies at state's three youth development centers that restrict the department's ability to put areas of the facilities on lockdown in case of disturbances. The single dorm rooms at the center are locked and can only be opened by those with a key, while occupants of the room can always push open the door.
Woodland Hills has a history of violence and sexual assault, according to The Guardian. In 2010, the US Department of Justice ranked the center as 13th in the nation among juvenile facilities with reports of sexual abuse by staff members.
Recent incidents of violence include one guard headlocked and repeatedly punched by a detainee, and another staffer beat by four young men before other staff members could help.
Most of the 14- to 19-year-olds held at Woodland Hills have committed at least three felonies.
Officials say Woodland Hills has been understaffed. Fifteen guards were on duty late Wednesday. They are not allowed to carry weapons.