Driver with ISIS flag leads cops on car chase through Chicago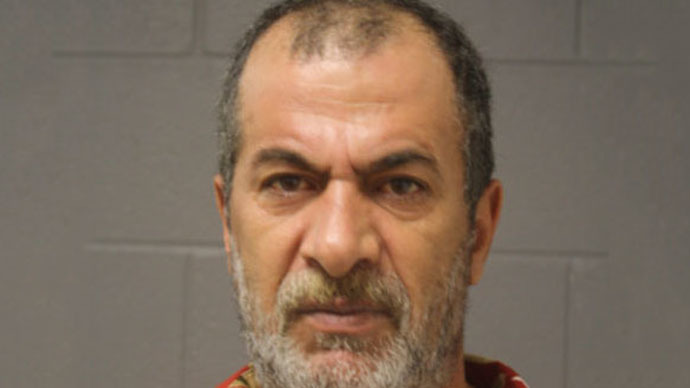 A Chicago man is facing multiple felony counts after he led police on a car chase early Wednesday while displaying the flag of the Islamic State from his vehicle's window and then threatened to detonate a bomb.
Authorities arrested 49-year-old Emad Karakrah after the Windy City chase and charged him with felony counts of disorderly conduct and aggravated fleeing, as well as a misdemeanor count of driving on a never-issued license, according to the Sun-Times, and three traffic citations related to the ordeal.
According to the Sun-Times report, police say they saw a "suspicious person" driving a silver Pontiac a little after 9 a.m. local time early Wednesday with a flag of the Islamic State group, formerly known as ISIS, waving from his car. Police then attempted to pull the man over, but the official report indicates that Karakrah took off and eluded authorities, forcing them to call for backup. Meanwhile, Karakrah reportedly drove through several red lights before eventually being apprehended.
Once he finally stopped, Jordan Owen wrote for the paper, Karakrah reportedly told police that there was a bomb in his vehicle and he would set it off if the authorities attempted to search it. As a result, the Chicago Police Department resorted to calling in the local bomb squad, as well as representatives from the United States Federal Bureau of Investigation and the Department of Homeland Security, who later determined that there were no explosives.
STMW, a local CBS News affiliate, reported that Judge Laura Sullivan ordered Karakrah to be held on $55,000 bond early Thursday, and is scheduled to next appear in court on September 3.
According to the Chicago Tribune, the traffic citations given to Karakrah involve moving violations related to having an object that obstructed his view while driving, disobeying red lights, failing to stop at a stop sign and operating a vehicle without a license, in addition to the charges of fleeing and disorderly conduct, the latter of which is a result of allegedly making the bomb threat.
News of Karakrah's wild ride comes amidst an escalating campaign of violence being waged by the Islamic State across Iraq and Syria, the likes of which prompted US President Barack Obama to meet with his national security council this week as the Pentagon prepares to intensify its own operation against the group.
Earlier this week, the US State Dept. said that a "growing threat" exists as western passport holders increasingly travel abroad to fight with the Islamic State, and a Minnesota-born man, 33-year-old Douglas McAuthur McCain, died last weekend while battling alongside the group in Syria. A second American has since reportedly died fighting with IS as well.
You can share this story on social media: