Texas man acquitted of murdering drunk driver who killed his sons
Published time: 28 Aug, 2014 21:19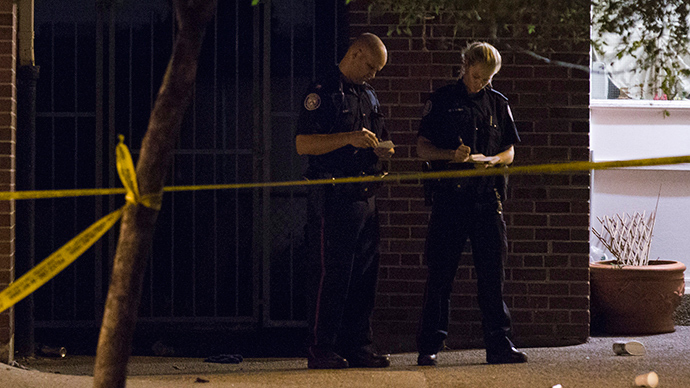 A Texas man was acquitted of murder this week after prosecutors failed to convince a jury that he fatally shot the drunk driver who killed his two young children in late 2012.
Attorneys for the prosecution argued that David Barajas, 32, produced a gun and then shot Jose Banda, 20, in the head in December 2012 moments after that man's vehicle struck and killed the defendant's two sons as they pushed the father's stalled Ford pickup truck down an unlit road near Alvin, TX. Tests later revealed that Banda had a blood alcohol level of twice the legal limit at the time of the incident.
Banda died of a gunshot wound to the head shortly after the fatal collision, but the prosecution could not convince the jury to convict Barajas of murder.
Reporting from Wednesday's hearing in Angleton, Houston Chronicle journalist Theodore Schleifer wrote that "prosecutors faced an uphill climb in erasing any reasonable doubt in jurors' minds."
"Police failed to produce a murder weapon linked to the killing, gunpowder residue tests on Barajas' hands were negative and no witnesses saw anything that transpired on the dark December night," he wrote.
"Though Barajas' attorneys could not identify who else could have killed Banda," Scleifer reported, "…the lawyers managed to create enough ambiguity that pushed a conviction out of reach."
Jeri Yenne, an attorney for the prosecution, said after Wednesday's verdict was read that she still believed Barajas was guilty of killing Banda.
"We also know that the jury did not believe that beyond a reasonable doubt," she told reporters, according to CNN. "We respect that."
Another prosecutor for the state of Texas, Brian Hrach, reminded jurors ahead of deliberation that their emotions "are not a part" of the decision process, and that "We don't let sympathies get in the way of a legal analysis," according to Reuters.
Speaking to journalists after the decision was announced, Barajas said that he was relieved to have the matter settled nearly two years since he lost his sons: David, 12, and Caleb, 11.
"A lot of weight's been lifted off my back," Barajas said. "I'm hurt about it. It hurt me from the beginning, on top of the hurt that I was already feeling because of my sons."
At the same time, Barajas added that his heart goes out to the family of the man who killed two of his four kids.
"They lost a son, too. This was a loss for everybody. This wasn't a winning situation for none of us," he said.