Black TV producer on way to Emmys party mistaken for bank robber, handcuffed, held for six hours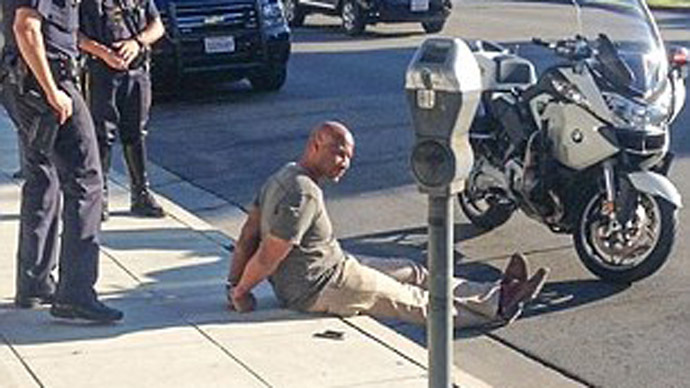 An African-American film producer in Beverly Hills for an Emmy pre-party was handcuffed and detained for around six hours on Friday night as police believed he fit the description of a suspect in a nearby bank robbery.
Charles Belk said he left a restaurant alone to refill a parking meter when he was suddenly surrounded by six police cars "handcuffed very tightly, fully searched for weapons, and placed back on the curb," he wrote on his Facebook page with an accompanying photo of him sitting on the curb as two police officers stand close by.
"Within an hour, I was transported to the Beverly Hills Police Headquarters, photographed, finger printed and put under a $100,000 bail and accused of armed bank robbery and accessory to robbery of a Citibank."
The Beverly Hills Police Department said in a statement Monday that they were in the process of investigating the robbery, and Belk "matched the physical characteristics of the second suspect and was in the area of the bank shortly after the robbery."
A witness had identified Belk as the second suspect, authorities said. The first suspect has since been arrested.
"I get that the Beverly Hills Police Department didn't know that I was a well educated American citizen that had received a B.S. in electrical engineering from the University of Southern California, an MBA from Indiana University … and an executive leadership certificate from Harvard Business School," Belk wrote on the Facebook post that has garnered over 33,000 shares. "Hey, I was 'tall,' 'bald,' a 'male' and 'black,' so I fit the description."
Belk was not originally told why he was being detained, nor was he allowed to make a phone call or speak to his lawyer for "a lengthy time,"KTLA reported.
In the process of interviewing other witnesses, police also reviewed surveillance tape of the incident, determining the second suspect was not Belk, according to police.
"What I don't get … is why, during the 45 minutes that they had me on the curb, handcuffed in the sun, before they locked me up and took away my civil rights, that they could not simply review the ATM and bank's HD video footage to clearly see that the 'tall, bald-headed, black male' … did not fit MY description," Belk said.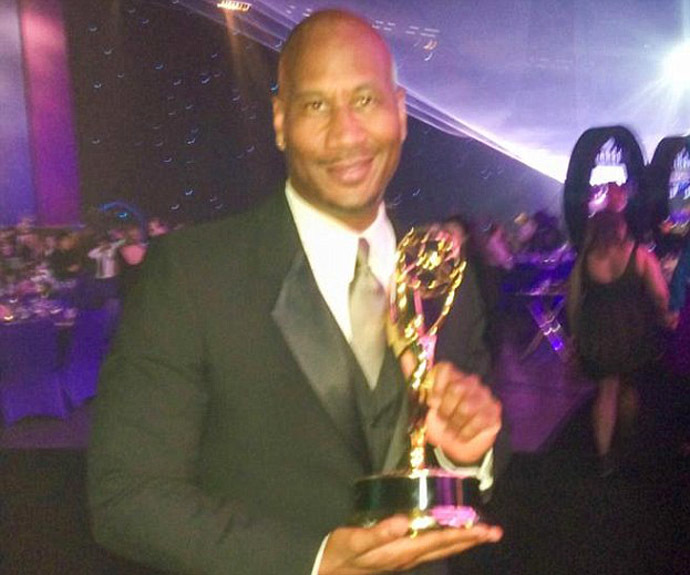 "Why, at 11:59pm (approximately 6 hours later), was the video footage reviewed only after my request to the Lead Detective for the Beverly Hills Police Department and an FBI Agent to do so, and, after being directly accused by another FBI Special Agent of '…going in and out of the bank several times complaining about the ATM Machine to cause a distraction…' thereby aiding in the armed robbery attempt of a bank that I never heard of, or ever been to; and within 10 minutes……10 MINUTES, my lawyer was told that I was being release because it was clear that it was not me."
Belk's anger at the apparent profiling comes during a particularly tense moment nationally between law enforcement and African-Americans across the country following the police killing of unarmed black teenager Michael Brown in Ferguson, Missouri.
"The sad thing is, prior to my freedom being taken from me for an easily proven crime I did not commit, I was walking back to my car, by myself, because I needed to check my parking meter, so that I wouldn't get a ticket and break the law. In fact, if it wasn't for a text message that I was responding to, I would have actually been running up LaCienega Blvd when the first Beverly Hills Police Officer approached me. Running! "
The Beverly Hills police said Belk's detention was a necessary part of their investigation.
"The Beverly Hills Police Department regrets the inconvenience to Mr. Belk, but was under obligation to thoroughly verify that he was not the suspect before releasing him," the police statement read.