Language arts teacher banned from school for writing fictional books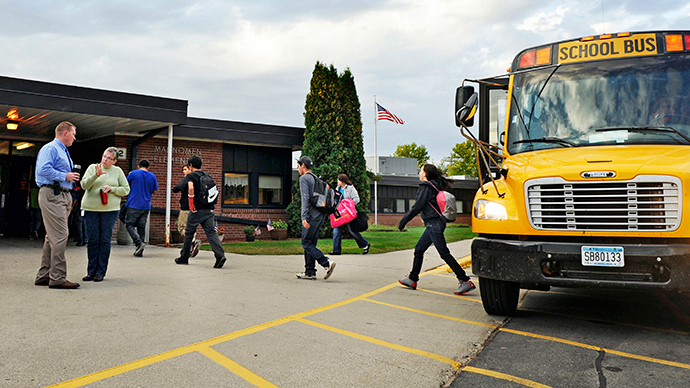 An eighth-grade language arts teacher from Maryland has been placed on administrative leave after school officials learned he allegedly authored two books containing questionable content under a pseudonym.
According to a press release published on Monday by the Dorchester County, Maryland superintendent of schools, Mace's Lane middle school teacher Patrick McLaw has been placed on a leave of absence pending an ongoing investigation.
Last week, Dorchester superintendent Henry Wagner wrote, the Wicomico County State's Attorney Office alerted educators that authorities are investigating the teacher, who since last year has taught language arts at the suburban Maryland school.
Local network WBOC News reports that the investigation concerns two books published by McLaw under the nom de plume "Dr. K.S. Voltaer," and one is about a fictional, futuristic school shooting that goes down in history as being the largest ever in the United States.
An excerpt from the description of that book, "The Insurrectionist," posted on Amazon.com reads:
"On 18 March 2902, a massacre transpired on the campus of Ocean Park High School, claiming the lives of nine hundred forty-seven individuals--the largest school massacre in the nation's history. And the entire country now begins to ask two daunting questions: How? and Why? After the federal government becomes involved, and after examining the bouquet of black roses that lies in front of the school's sign, it becomes evident that the hysteria is far from over."
Another book, 2013's "Lilith's Heir," is described on the online retailer as a sequel to The Insurrectionist, and both are attributed to the writing team of "K Voltaer" and McLaw.
The superintendent's statement is absent details about the books, but Wagner wrote that McLaw has been placed on administrative leave "due to significant matters of concern brought forth by law enforcement."
"While on administrative leave, he is not allowed to come onto school property or participate in school events," the statement continues. "Mr. McLaw's teaching duties have been assigned to qualified personnel to insure the smooth transition of students into the fall semester." Additionally, Wager wrote that an officer from the Cambridge Police Department will be at Mace's Lane middle school "for as long as we deem it necessary."
"I think that the various police agencies that we have, working in conjunction with the board have a handle on the situation and I think we're going to have a safe and happy opening day of school tomorrow," Dorchester Sheriff James Phillips told WBOC on Monday.
According to one news article from this past April, McLaw was recently nominated for Dorchester County's "Teacher of the Year" award but lost. And according to an archived story from USA Today, the grade school teacher previously made national headlines when he helped a 14-year-old student self-publish his own e-books on Amazon.com.
"A mentor from Salisbury University, Patrick McLaw, showed him how to market his work on Amazon, and it went up on the site May 24," the USA Today article says of the teacher. The public LinkedIn profile for McLaw confirms that he graduated from Salisbury with a bachelor of arts in 2013 and has worked in Maryland schools since 2008, first as an administrative assistant, then as a language arts teacher.
According to Phillips, the Dorchester sheriff, McLaw is now banned from county properties in Dorchester and Wicomico counties, as well as the Delmar School District where he started work in 2008, according to LinkedIn.
You can share this story on social media: