States with medical pot see nearly 25 percent fewer fatal prescription drug overdoses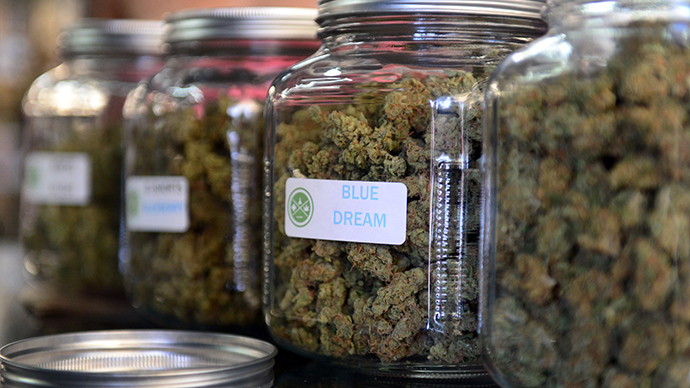 A new study reveals that states where medical marijuana is legal experience around one-quarter fewer deaths from prescription drug overdoses, signaling perhaps a small victory for proponents of pot's alleged pain-alleviating powers.
According to the study published in the latest installment of JAMA Internal Medicine, the 13 states in America that have legalized the use of medical marijuana for patients with valid prescriptions see a 24.8 percent lower annual opioid overdose rate that those where weed can't legally be offered to treat ailments.
Dr. Marcus A. Bachhuber of the Philadelphia Veterans Affairs Medical Center writes in the study that "States that implemented medical marijuana laws appear to have lower annual opioid analgesic overdoses death rates (both from prescription pain killers and illicit drugs such as heroin) than states without such laws," but acknowledged that the exact reason isn't quite clear at this point.
"Prescriptions for opioid painkillers for chronic pain have increased in the United States and so have overdose deaths. However, less attention has been focused on how the availability of alternative nonopioid treatment, such as medical marijuana, may affect overdose rates," his team wrote.
Now after reviewing overdose rates across the US from 1999 through 2010, Dr. Bachhuber and his colleagues determined that states with legal weed witness fewer overdoses.
"As our awareness of the addiction and overdose risks associated with use of opioid painkillers such as Oxycontin and Vicodin grows, individuals with chronic pain and their medical providers may be opting to treat pain entirely or in part with medical marijuana, in states where this is legal," Colleen L. Barry, PhD, a senior author of the study, said in a statement.
Despite identifying what could be a trend, however, the researchers fell short of attributing lax pot laws on the lack of ODs.
"In summary, although we found a lower mean annual rate of opioid analgesic mortality in states with medical cannabis laws, a direct causal link cannot be established," the researchers wrote. "If the relationship between medical cannabis laws and opioid analgesic overdose mortality is substantiated in further work, enactment of laws to allow for use of medical cannabis may be advocated as part of a comprehensive package of policies to reduce the population risk of opioid analgesics."
Indeed, a review of the research published alongside the study in JAMA prompted Dr. Marie J. Hayes and Dr. Mark S. Brown to ask questions about how the study may prompt future changes in jurisdictions where weed can't legally be prescribed.
"If medical marijuana laws afford a protective effect, it is not clear why. If the decline in opioid analgesic-related overdose deaths is explained, as claimed by the authors, by increased access to medical marijuana as an adjuvant medication for patients taking prescription opioids, does this mean that marijuana provides improved pain control that decreases opioid dosing to safer levels?" the doctors opined. "The potential protective role of medical marijuana in opioid analgesic-associated mortality and its implication for public policy is a fruitful area for future work."
The latest report was put together with evidence from the 13 states where medical marijuana was legal through 2010, although 10 more have since followed suit, as well as Washington, DC. As of this year, recreational marijuana is legal for adults in the states of Washington and Colorado.
You can share this story on social media: