Michael Brown funeral draws thousands along with celebrities, civil rights leaders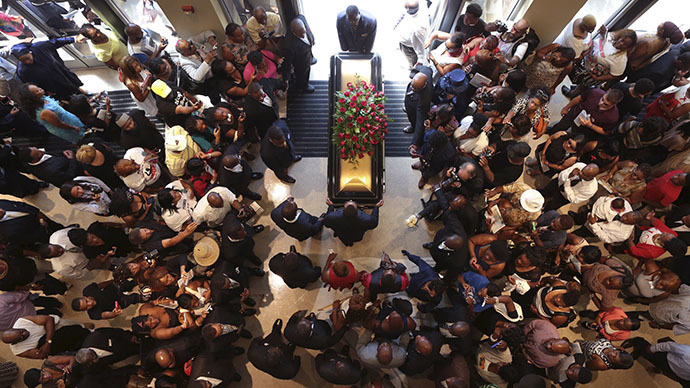 Thousands of people attended a Baptist church in Missouri on Monday in order to mourn and celebrate the life of Michael Brown, a young, unarmed black man who died after being shot by local police.
The funeral took place at the Friendly Temple Missionary Baptist Church, attracting a large crowd as well as prominent figures such as Rev. Jesse Jackson, children of the Rev. Dr. Martin Luther King, Jr., White House officials, Congressional members, and the film director Spike Lee.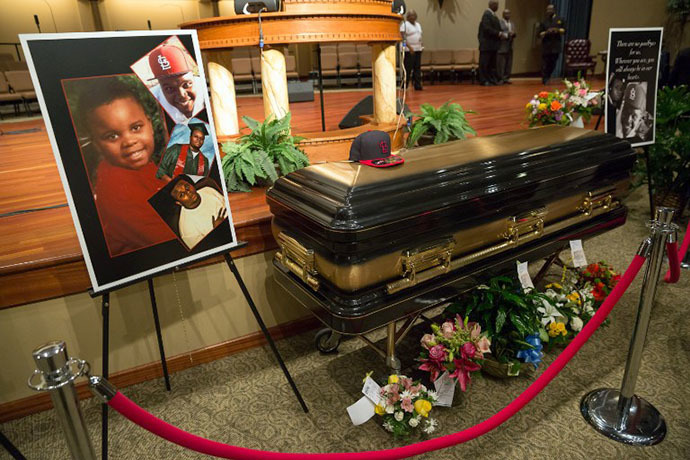 Although there were plenty of tears shed at the religious service, the mood has been described as celebratory, with singing by a choir and even dancing in the church.
Rev. Al Sharpton delivered a eulogy for Brown, saying the 18-year-old's death has spark renewed calls for change against police militarization and racial profiling in the United States. However, he also took the time to emphasize the need for non-violent resistance.
Hundreds of mourners gather for funeral of Michael Brown: http://t.co/tVAZBhALJqpic.twitter.com/lyu9hUD8zv

— Reuters U.S. News (@ReutersUS) August 25, 2014
"Michael Brown does not want to be remembered for riots," Sharpton said, as quoted by the Wall Street Journal. "He wants to be remembered as the one that made America deal with how we are going to police in the United States."
"We can't have a fit. We've got to have a movement," he added, according to the Los Angeles Times. "A fit – you get mad and run out for a couple of nights. A movement means we've got to be here for the long haul and turn our chance into change, our demonstration into legislation."
Funeral services for #MichaelBrown are held today in St. Louis. http://t.co/h9Z078mk3kpic.twitter.com/coujxNYMZk

— STLtoday (@stltoday) August 25, 2014
Brown's hometown of Ferguson, Missouri, has been rocked by clashes between the police and citizens over the last few weeks. Protesters have taken to the streets nightly in order to express their anger with the police department, which delayed identifying the officer who shot Brown and has been criticized for attempting to assassinate his character in the wake of the incident. No police report was filed after the shooting, though police did release a video of Brown allegedly robbing a convenience store.
"You see so much injustice going on in our communities," said 66-year-old Shirley Minter, to the Journal. "Michael Brown was an innocent black man on his way home. And to be shot down like that is very disturbing."
#artwork. Someone brought this for the family #mikebrownpic.twitter.com/qDeVA9HH8c

— Christina Coleman (@ChristinaKSDK) August 25, 2014
Brown's family has called for a halt to protests on Monday, however, saying a "day of silence" should be observed as the young man is laid to rest. The sentiment was echoed by Sharpton as well.
"He just wanted so much," his stepmother Cal Brown told the Washington Post. "He wanted to go to college, he wanted to have a family, he wanted to be a good father."
PHOTOS: #Ferguson mourns the death of Michael Brown at his funeral today. http://t.co/wMG3VSPjdSpic.twitter.com/KXj82vISmg

— Reuters U.S. News (@ReutersUS) August 25, 2014
Some residents said there need to be serious changes to the way police operate – whether it's the way they react to developing situations or the single out individuals based on race – but that some good would come from simply getting to know the community more.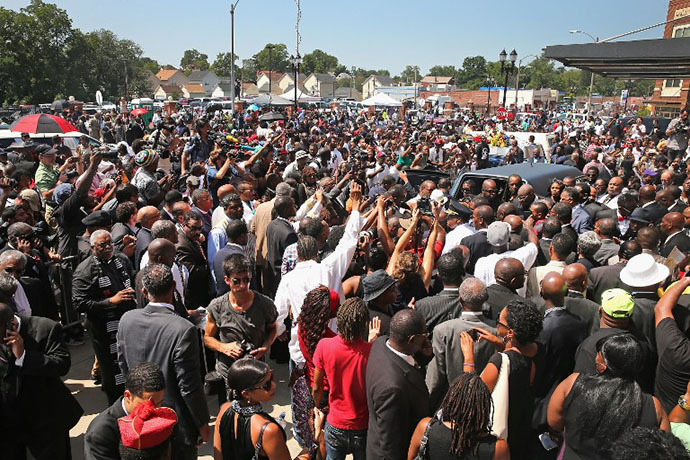 "Change starts with us as a community," Ferguson resident Greg Davis, 57, said to the Los Angeles Times. "Justice for me is to stop profiling us. I would love to see them walk the beat, get to know the residents. Right now, it's hard for me to call them."
People coming into the church for Michael Brown's funeral with their hands up chanting "don't shoot" @VOA_Newspic.twitter.com/HB7nv9q7Sk

— Alberto Pimienta (@AlbertoPimienta) August 25, 2014
You can share this story on social media: