Video of deadly St Louis police shooting raises questions (GRAPHIC)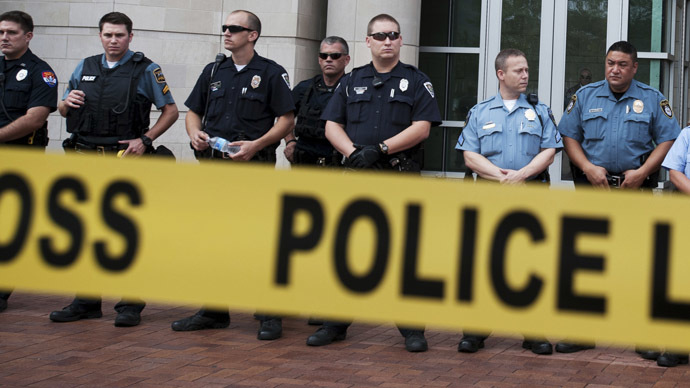 The St. Louis Metropolitan Police Department has released mobile phone footage that seems to be at odds with parts of its story surrounding the officer-involved shooting of Kajieme Powell in the weeks after Michael Brown's death.
According to St. Louis Public Radio, the police released the video Wednesday evening as part of an effort to be more transparent when it comes to violent incidents involving law enforcement. In addition to the cell phone footage, the department also released security camera footage of the alleged robbery, as well as the two 911 calls made to police.
Police were first called to the scene – less than four miles away from the spot Brown, an unarmed 18-year-old, was killed – when a local store owner reported the 25-year-old Powell for stealing drinks and snacks. A separate woman, meanwhile, also reported Powell for allegedly having a knife in his pocket and acting strangely.
As RT noted previously, St. Louis Police Chief Sam Dotson said Powell was brandishing a knife and ignored commands to drop it. Dotson said Powell approached the officers carrying the knife "in an aggressive manner," with an overhand grip, and was shot when he came within three or four feet of police. The video is embedded below, please note that it includes graphic scenes.
In the newly released video, Powell can be seen walking in the direction of and yelling at the two responding officers, telling them to shoot him. However, his hands look to be at his side while this is happening, and he also appears to be further than three or four feet from police when they decide to shoot him.
Powell had a well-known history of mental illness, though it's unclear how, if at all, that played into police decision-making. He was shot about 15-20 seconds after police arrived, about nine times total.
Speaking to CNN, Dotson acknowledged that Powell's hands were down when he was shot, but said the man was brandishing a knife and walking towards officers at a close enough range that the knife was considered a lethal weapon.
"The officers did what I think you or I would do, they protected their life in that situation," Dotson said, as quoted by the Huffington Post. He mentioned that tasers aren't "100 percent" successful, concluding, "In a lethal situation, they used lethal force."
Previously, Dotson also pointed to the safety of his officers as the most important concern.
"I think officer safety is the number one issue," he said on Tuesday. "I think you have the right to protect yourself and defend yourself" if someone approaches you with a knife and gets too close.
You can share this story on social media: