Suspect dead after officer-involved shooting in St. Louis near Ferguson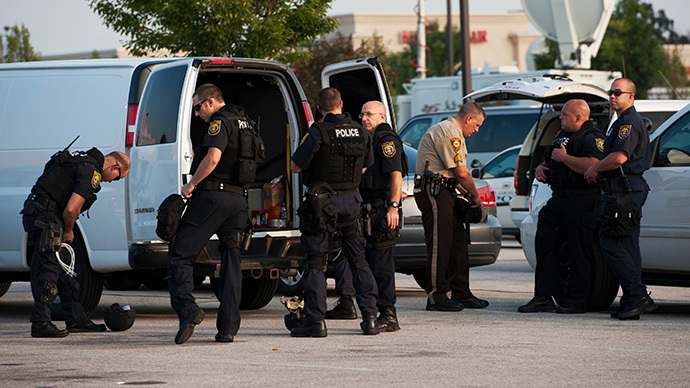 A 23-year-old African-American man was shot and killed by St. Louis Metropolitan Police Department officers midday on Tuesday, less than four miles from the protests in Ferguson. The man was brandishing a knife, witnesses said.
According to the St. Louis Metropolitan Police Chief Sam Dotson, the man entered a convenience store and stole two energy drinks. The store proprietor told him to stop, but he walked out. He later returned, stole a package of muffins, and walked back out. The store owner walked out and asked him to pay, at which point, he threw the items on the ground. Both the store owner and a local alderwoman called police.
A pair of officers arrived to see the man acting erratically, grabbing his waistband and holding a knife. The police got out of their car, and gave verbal commands for the man to drop the knife, which he was brandishing with an overhand grip "in an aggressive manner," Dotson continued. He then approached the officers.
The police repeated their commands to drop the knife. When the suspect did not drop the weapon, both officers drew their guns and shot at him from a distance of three to four feet, killing him, the chief said.
A witness described it as "suicide-by-cop," Dotson said. Several witnesses said the suspect was saying, "Shoot me now, kill me now."
Investigators have recovered the knife, and are looking for security footage of the incident.
The suspect has been identified so far only as 23-year-old African American male.
During an impromptu press conference, reporters asked Dotson if the outcry over the police shooting of unarmed 18-year-old Michael Brown last Saturday in nearby Ferguson had an effect on how the St. Louis officers approached the situation, as well as how forthcoming the chief was being so soon after the incident.
"I think officer safety is the number one issue," Dotson replied. "I think you have the right to protect yourself and defend yourself" if someone approaches you with a knife and gets within three or four feet of you.
"This is typically how we do it in the city of St Louis, to get the information out early," he added.
The chief said he will spend time in the community to make sure that message is out as truthfully and quickly as possible. As well as the alderwoman who witnessed the incident, two other aldermen were on the scene quickly to talk to the community.
After speaking with reporters, Dotson then "waded into the crowd" to tell them about the investigation so far, CNN producer Yon Pomrenze reported. Tensions are still running high in Ferguson, less than four miles away.
At least 78 people were arrested during protests in that city on Monday night.
You can share this story on social media: