Man arrested for filming NYPD stop-and-frisk gets $125k settlement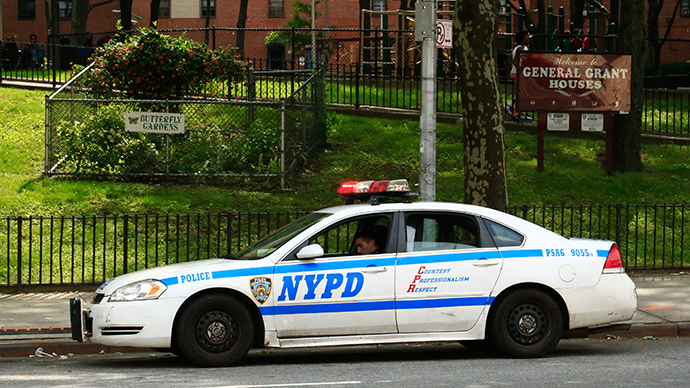 The New York Police Department reached a $125,000 settlement with a man who says he was arrested and strip-searched for photographing officers performing a stop-and-frisk operation in 2012.
Dick George was sitting in his car in Flatbush on June 14, 2012, when he spotted three African-American youths getting searched by police employing the NYPD's controversial stop-and-frisk policy. The 45 year old pulled out his cell phone and began taking pictures, the New York Daily News reported.
After the youths were let go, George advised them to note the cops' badge numbers next time. The cops overheard his remark and violently pulled George out of his car, court papers stated.
"Now we're going to give you what you deserve for meddling in our business and when we finish with you, you can sue the city for $5 million and get rich, we don't care," Lt. Dennis Ferber told him, according to the suit filed in Brooklyn Federal Court.
The officers arrested George and charged him with disorderly conduct. He was in police custody for a total of 45 minutes, but he said he suffered a torn meniscus of his knee while being handcuffed.
They then deleted the pictures George had taken, he claimed.
After the incident, George sued Ferber and co-defendants Sgt. Patrick Golden and Officer Stacey Robinson. The three NYPD members have been sued in six other federal cases, according to the Daily News.
"After a thorough review of the case facts, it was in the best interest of all to resolve this matter without costly litigation and trial," city lawyer Brian Francolla said in a statement.
Police in general, but especially in New York City, have been notoriously camera-shy while performing their jobs. But the tide is turning on their ability to prevent people from filming or photographing them in the line of duty, thanks to a recent court case and reminders of current policies.
In May, a federal appeals court ruled that Americans have the right to videotape police officers in public, thereby allowing a court case brought against New Hampshire police to progress. In that case, Carla Gericke was arrested in 2010 for videotaping members of the Weare Police Department who pulled over her friend during a traffic stop. Her video camera malfunctioned, however, and she failed to record evidence of the incident. A week later, the police department agreed to settle with a woman who was arrested on wiretapping charges. She received $57,000.
In the time since George's arrest and the appeals court ruling, the NYPD's department chief issued a memo to its officers reaffirming the public's right to photograph and video police encounters, the Daily News reported last Sunday.
"Members of the public are legally allowed to record police interactions," the memo stated. "Intentional interference such as blocking or obstructing cameras or ordering the person to cease constitutes censorship and also violates the First Amendment."
Cops can, however, take action if the photographers "interfere with police operations," the memorandum noted.
The memo was in response to the July death of 43-year-old Eric Garner, when police triggered a heart attack when they placed the man in an illegal chokehold and hit his head on a sidewalk. Video played a significant role in shaping reaction to the incident. Garner's death has been ruled a homicide.
You can share this story on social media: