Texas Gov. Rick Perry turns himself in for grand jury indictment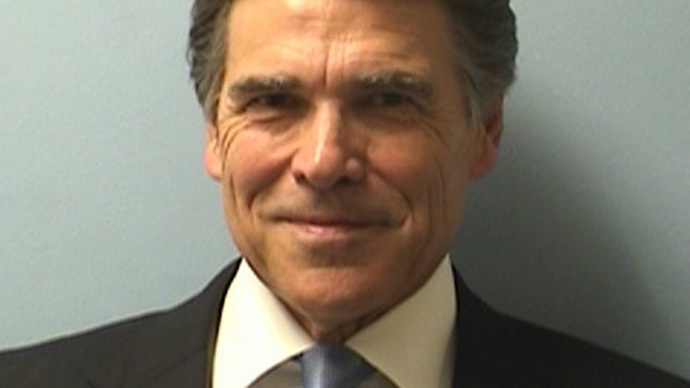 Texas Gov. Rick Perry turned himself in to local law enforcement on Tuesday, where he was booked and had his mug shot taken following a grand jury indictment accusing him of abusing power while in office.
Perry was indicted on Friday for carrying out a veto threat that withheld state funding for the government watchdog group responsible for investigating corruption and police scandals. Officially, the former presidential candidate – and potential 2016 contender – was charged with felony counts of abuse of official capacity and coercion of public servant, charges that carry maximum punishments of 99 years and 10 years in prison, respectively.
The case in question dates back to last year, when Perry used a veto threat in an attempt to pressure District Attorney Rosemary Lehmberg to resign her post as the leader of the state's Public Integrity Office. Lehmberg – whose arrest for drunk driving initiated Perry's demand – refused to leave her position, leading the governor to withhold $7.5 million in funding for the agency.
A grand jury was formed to look into the case after the Texans for Public Justice (TPJ) watchdog group said Perry used his veto to coerce Lehmberg into quitting her job. Perry and his supporters, however, point to the fact that he is allowed to veto parts or all of any legislation passed by lawmakers.
Before entering the Travis County Justice Center on Tuesday, Perry once again defended his actions.
"This issue is far bigger than me. It's about rule of law, it's about the Constitution that allows not just the governor but every citizen to speak their mind, free of political interference or legal intimidation," Perry said, as quoted by theHuffington Post. "I'm going to fight this injustice with every fiber of my being, and we will prevail."
The comments were similar to the ones he made in the wake of the indictment, when he issued a statement calling the indictment itself an "abuse of power."
"I wholeheartedly and unequivocally stand by my veto, and I'll continue to defend this lawful action of my executive authority as governor," he said.
"We don't settle political differences with indictments in this country. It is outrageous that some would use partisan political theatrics to rip away at the very fabric of our state's constitution."
Although the grand jury's decision marks the first time in almost 100 years that a Texas governor has been indicted, many are skeptical that the charges will stick. The New York Times recently called Perry one of the "most damaging state leaders in America," but dismissed the indictment as without merit.
"Bad political judgment is not necessarily a felony, and the indictment handed up against him on Friday -- given the facts so far -- appears to be the product of an overzealous prosecution," the newspaper's editorial board wrote.
Former advisor to President Obama, David Axelrod, also seemed less than convinced by the indictment, calling it "pretty sketchy."
Unless he was demonstrably trying to scrap the ethics unit for other than his stated reason, Perry indictment seems pretty sketchy.

— David Axelrod (@davidaxelrod) August 16, 2014