One shot, 7 arrested as Ferguson police disperse protesters defying curfew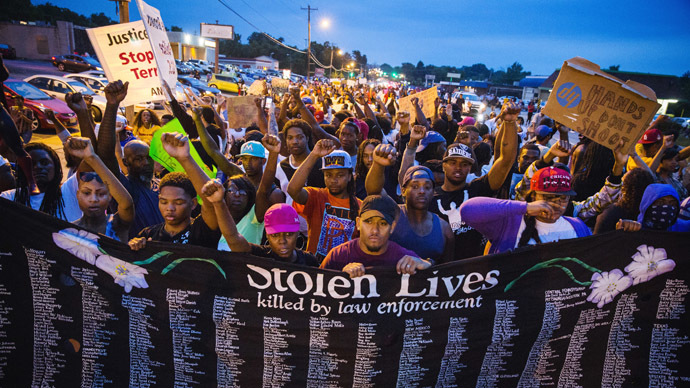 One person is in critical condition and seven people have been arrested in the latest Ferguson protest, local police said in a news conference. They also confirmed the use of tear gas.
TIMELINE:Militarized US police face-off with Ferguson protesters
Earlier, conflicting reports suggested either tear gas or smoke bombs were used.
#Ferguson cops say smoke, other media down it are reporting tear gas pic.twitter.com/JtWAWog40W

— David Carson (@PDPJ) August 17, 2014
Police officials are saying what they are firing is not tear gas, but smoke #ferguson

— Anastasia Churkina (@NastiaChurkina) August 17, 2014
I have been teargassed many times, the police definitely used it today in #Ferguson

— Tim Pool (@Timcast) August 17, 2014
Police radio said that a person has been shot, and it's not clear if rubber bullets were used. It's also reported that the man has been taken to hospital.
Police said at in a news conference that the person is in critical condition.
Police radio says there are reports of a person shot. Not clear if with rubber bullets. #Fergurson

— Ryan J. Reilly (@ryanjreilly) August 17, 2014
One person was shot and critically wounded and seven were arrested, Missouri State Highway Patrol Captain Ron Johnson said. Police were unable to identify the victim, who he said was not shot by police, and that the alleged shooter was still at large.
This picture got me yelled at by the police but I'm a journalist. I document arrests. #Ferguson#MichaelBrownpic.twitter.com/e4mGUQipLK

— Yamiche Alcindor (@Yamiche) August 14, 2014
Earlier, police were announcing on a bullhorn that the protesters have to leave the area immediately. "This is the police. You're in violation of the state-imposed curfew. You must disperse immediately," the police were saying.
There are approximately 70 officer moving forward now putting on gas masks #Ferguson

— Ryan J. Reilly (@ryanjreilly) August 17, 2014
Media reporters have been asked to stand back for their safety, as there are at least four police tactical vehicles arriving at the scene.
Despite heavy rainfall and lightning, hundreds lined up the streets ahead of the curfew introduced earlier by Governor Jay Nixon who has declared a state of emergency, as authorities try to restore order after a week of mainly peaceful protests marred by occasional rioting and looting.
Hours before the curfew was set to begin, authorities have deployed riot police in the streets apparently blocking the main access routes to the protest area.
Authorities have already blocked off traffic from going down West Florissant at Chambers. #Fergusonpic.twitter.com/42LfPCvh6W

— Joel D. Anderson (@blackink12) August 17, 2014
The situation. pic.twitter.com/3phGeG5wkR

— Matt Pearce (@mattdpearce) August 17, 2014
The New Black Party representatives were also at the scene, trying to ease the tensions. People who gathered in the streets in defy of curfew were saying that authorities are not addressing the real issue instead imposing more restrictions of citizens' rights.
"The eyes of the world are watching. This is the test of whether a community, this community, any community, can break the cycle of fear, distrust and violence, and replace them with peace, strength and, ultimately, justice," Governor Jay Nixon said earlier in his speech at a church near Ferguson.
Captain Ronald Johnson of the Missouri State Highway Patrol, who also spoke at the press conference, following Nixon, promised not to use tear gas or armored vehicles that was deployed during Friday night clashes.
The unrest erupted after police officer Darren Wilson shot and killed Michael Brown in brought daylight last Saturday. Authorities say that the US Department of Justice is increasing its efforts in the investigation, while around 40 FBI agents are questioning witnesses.
For more watch Anastasia Churkina's report from Ferguson:
You can share this story on social media: