Looting mars renewed protests in Ferguson (PHOTOS)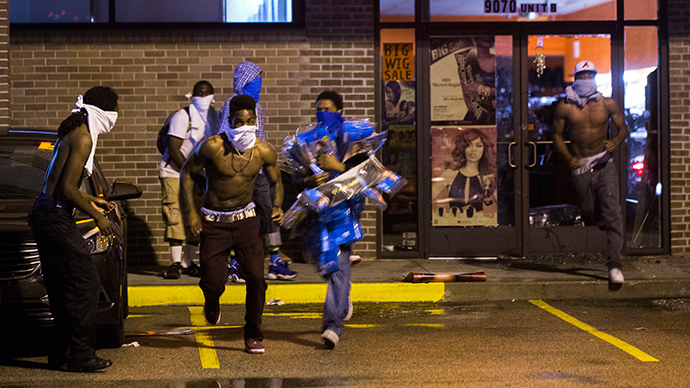 Protests in Ferguson failed to quell after the release of the name of the police officer who shot an unarmed black teenager. As hundreds continued to rally Friday, some individuals stormed local stores.
Militarized US police face-off with Ferguson protesters LIVE UPDATES
The street mayhem continued in the Missouri town as protesters took to the streets for the sixth day in a row. About 200 protesters clashed with police forces, who used teargas on the demonstrators.
Some protesters pelted rocks and other objects at police, said police chief Thomas Jackson, adding that one teargas canister was fired at the crowd to calm the unrest. He added that one officer was hurt.

The protests continued despite the release of the name of the police officer who fatally shot unarmed black teenager Michael Brown on Saturday.

At a news conference Friday, Chief Jackson named Officer Darren Wilson as Brown's shooter. In addition, Jackson released documents alleging that Brown stole a $48.99 box of cigars from the convenience store. Police also reported that they found evidence of the stolen merchandise on Brown's body.
The same store Brown was accused of robbing was stormed by looters later Friday, together with several other shops. However, the residents who take to the streets try to support public order. On Saturday many woke up early to clean the streets and help local businesses restore order in their shops.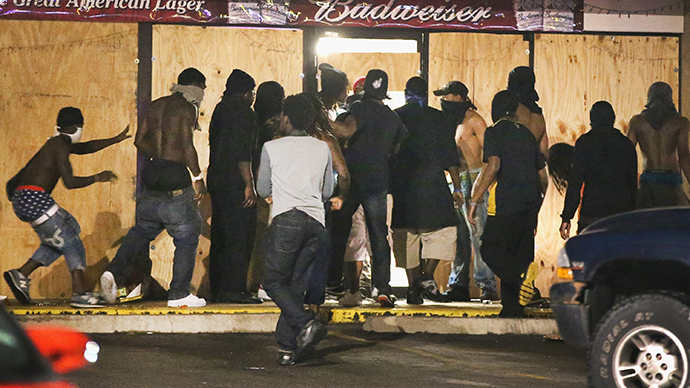 Store owners reportedly started arming up as police did not interfere while their businesses were being looted.
Store owners now taking matters into their own hands. #Fergusonpic.twitter.com/UDVTc2Plg6

— Shimon Prokupecz (@ShimonPro) August 16, 2014
At the news conference, law enforcement officials presented a surveillance video backing up their charges. The man in the video, who was wearing a baseball cap, shorts and a T-shirt, grabbed the man from behind the store counter and "forcefully pushed him back" into a display rack.
Almost all the alcohol is gone from their store. pic.twitter.com/0kcSBKMrO1

— Shimon Prokupecz (@ShimonPro) August 16, 2014

The man shown in the surveillance footage "appears to be" Brown, family attorney Daryl Parks said, AP reported. However the attorney together with Brown's family said the alleged crime didn't justify the shooting of Brown after he put up his hands in surrender.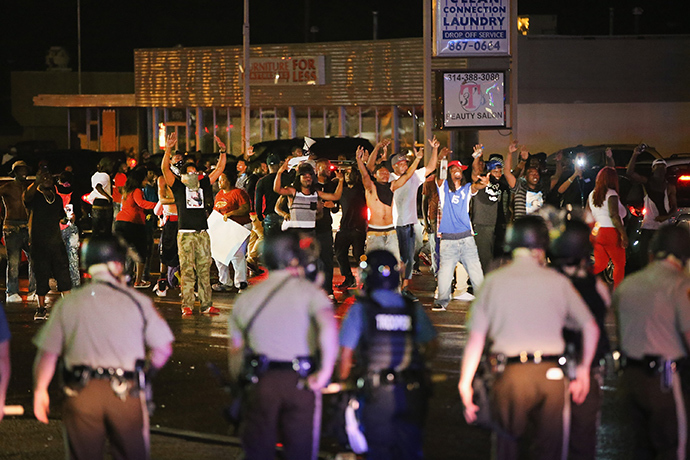 "We wanted the information before things got to this level," a protester told RT's Anastasia Churkina at the scene. The protester was referring to the escalating tensions between the demonstrators and heavily militarized police forces, who used tear gas and shot rubber bullets to disperse the crowds.

"Initially I was afraid to come here because when a saw all the militia, the police out here, showing weapons, presenting themselves in a threatening manner," another protester told RT's Churkina. "I was afraid to come out here because I saw the teargas and the manner they were approaching and arresting people."
On Wednesday the protests saw excessive use of force used by Ferguson riot police geared up in heavy military equipment throwing tear gas canisters and using rubber bullets. AP reported that protesters used Molotov cocktails against police responding to their offensive.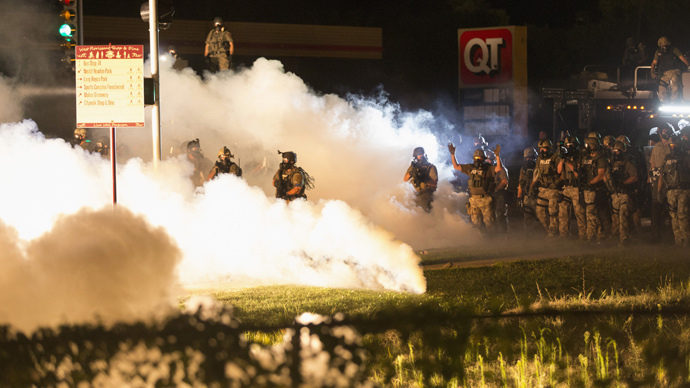 The tear gas used by police in Ferguson has been known for its severe effects on health, which include temporary blindness, breathing problems, and the risk of miscarriages, as well as potential heart and liver damage. Security forces there also have an M4 rifle in their arsenal - a field-army weapon used in various military conflicts. Police have also been reinforced by light-armored vehicles, which were in service in Afghanistan and Iraq.

Tensions subsided to some extent Friday, Churkina reported, adding that almost no police were present on the ground. A day earlier, Missouri Governor Jay Nixon relieved St. Louis County law enforcement from policing the ongoing demonstrations, putting Highway Patrol in charge instead. He acknowledged that Ferguson looks "like a war zone" lately, and said, "We need to rebuilt the trust that's been lost" in the wake of Brown's death and the use of police force on demonstrators.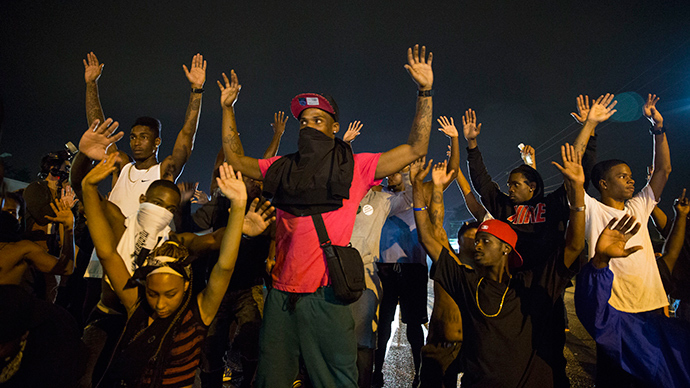 For more watch Anastasia Churkina's report from Ferguson:
You can share this story on social media: