Google 'street view' maps coral reefs off Florida
Published time: 14 Aug, 2014 16:38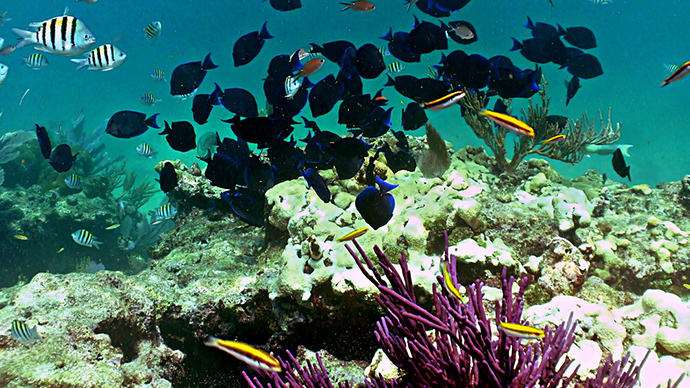 US government researchers will apply "street view" mapping tools to underwater ecosystems in the Florida Keys this week in an effort to document coral reef health. The project is sponsored by the likes of insurance company Catlin and Google.
The rotating and panoramic images taken from the Florida Keys National Marine Sanctuary will be available online this week, according to AP, including some on Google Maps. This collection will add to the around 400,000 images produced thus far of coral reefs near Australia and the Caribbean.
The research aims to offer details about the state of coral restoration, as well as to help scientists examine the effects of warming ocean temperatures, pollution, and hurricanes on reefs, officials said.
"This allows people who can't get underwater to understand what we mean by putting up a special preservation area around this particular spot," said Mitchell Tartt, chief of the conservation science division at the National Oceanic and Atmospheric Administration's Office of National Marine Sanctuaries. Six NOAA officials are part of the underwater training, AP reported.
The triple-lens-SVII cameras that will be used to capture underwater scenes is the same technology used to produce Google Street View images of areas across the globe. The cameras will be strapped to scuba divers and powered by small motors.
In one hour, for example, each camera can capture images of an area up to 20 times larger than traditional underwater photography equipment, according to project director Richard Vevers. The technology will also gather GPS data and patch together images taken into panoramic, 360-degree views.
Co-sponsor of the venture, Catlin Seaview Survey, is funded by Bermuda-based insurance giant Catlin. The Survey is a project to document the state of coral reefs worldwide.
Images of reefs all over the world coming from other Catlin surveys are being uploaded online to the Catlin Global Reef Record. The survey's smaller cameras are being used for targeted projects at NOAA sanctuaries around the US.
Catlin's sponsorship offers consistency in equipment, training, and data, Vevers said. Catlin told AP the cost of the project was "fairly substantial."
Catlin's sustainability director John Carroll said the insurance company will benefit from the mapping, as climate change will certainly impact many insurable assets.
"Clearly as an insurance company, we're keen to help manage this risk because, you know, that's our business," Carroll said.
Vital coral reefs around the world's oceans have been decimated by global warming, pollution, and overfishing, to name a few antagonists. Last month, scientists said that the Great Barrier Reef off Australia's east coast is "in the worst state since records began," and in 40 years large swathes of coral structures will be replaced by seaweed and algae.
In the Caribbean, coral reefs are on course to disappear "in the next 20 years," as human activity is killing off grazers such as parrot fish and sea urchins which are vital for their survival, the International Union for Conservation of Nature recently reported.