​NYC police chokehold death proves need for cop-cams - public defendant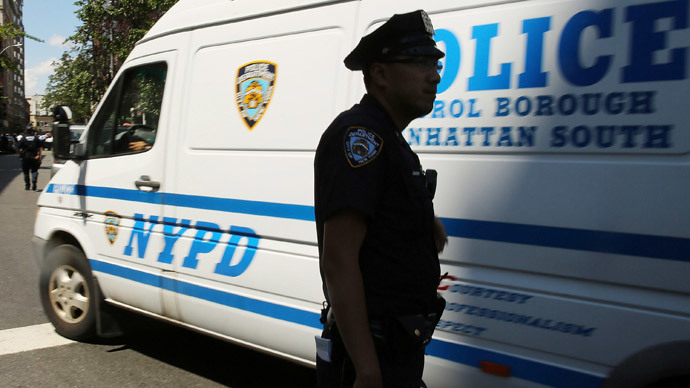 New York Public Advocate Letitia James is pushing for all NYPD officers to be outfitted with body cameras following the death of local resident Eric Garner when detained by police.
On July 17, Eric Garner was approached by police officers for allegedly selling black-market cigarettes on a Staten Island Street. In an effort to arrest him, a plainclothes put Garner in a choke-hold while other police officers wrestled Garner to the ground.
Police tear gas crowds protesting killing of Missouri teenager

A passerby videotaped the incident, in which Garner could be heard pleading, "I can't breathe," before apparently expiring on the sidewalk. An autopsy by the city medical examiner's office ruled the death of Garner, a 43-year-old father of six, a homicide.

The use of choke-holds by the NYPD has been banned since 1993.

New York City Public Advocate Letitia James called Monday on New York City Mayor Bill de Blasio to address the problem of police abuse of powers by requiring officers to wear body cameras.

"Simply rewriting the rules is not enough," said James, apparently referring to NYPD Commissioner Bill Bratton's pledge to retrain all officers in the use of force in the wake of Garner's death.

"We need action today," she told reporters at a press conference Monday.

The NYPD said it was already working on implementing body cams.

"The NYPD is exploring the feasibility of camera technology that will outfit officers and/or equip department vehicles. In the process of doing so, there are various technological, legal and logistical concerns that must be addressed before making a final decision," said Deputy Chief Kim Royster, the department's spokesperson.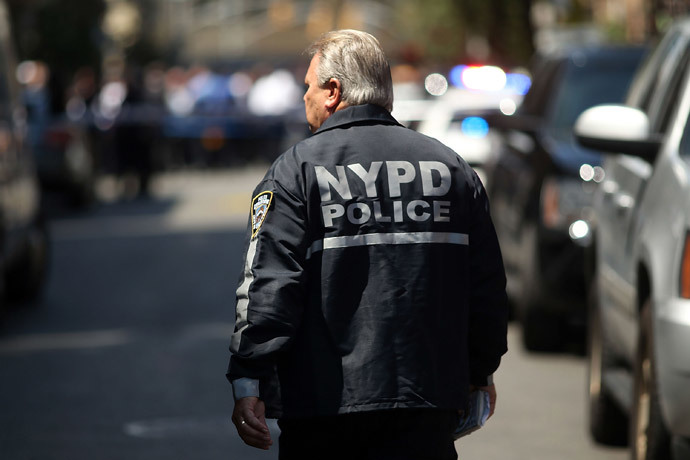 In a report she released, James said the cameras would cost $450 to $900 each and estimated that 15 percent of the police force could be fitted with body cameras for under $5 million. Eventually the program would include all patrol officers.
"This figure is far less than the $152 million in court judgments and settlements paid by the City as a result of allegedly improper NYPD conduct,"
the report claims.
Police body cameras have already been introduced in over 3,000 police departments, like Fort Worth, Texas, Greenboro, N.C., and the Johnson County Sheriff's Department surrounding Kansas City, Mo., the Daily News noted, citing officials from two major manufacturers, Taser International and VIEVU.
James argued that requiring officers to wear cameras could reduce the number of police brutality lawsuits, saving New York City millions of dollars in legal fees a year. She pointed to one California town that witnessed an 88 percent drop in legal claims of police misconduct in one year after police began using the cameras.
The public advocate said she would like to see the pilot program first introduced in
"precincts with the highest rates of police misconduct and crime.""And to ultimately implement the use of body cameras for patrol officers in all precincts in the city,"
James said.
The initiative is winning supporters even among the police.

"We are reserving our decision on body cameras until we see some real evidence of their effectiveness and impact on the officers who carry them," NYPD Patrolman's Benevolent Association President Patrick Lynch said in a statement Monday.

"The Public Advocate cites the $152 million that the city spends on lawsuits against police officers, but what she fails to say is that the city refuses to fight even the most ridiculous and baseless of the claims," Lynch said. "Instead, they settle these ridiculous suits when they should fight every one of them to conclusion, which would effectively put an end to quick buck lawsuits against our officers."

Meanwhile, civil rights attorney Earl Ward said cameras would also help police officers who are wrongly accused of abuse.

"As a civil rights attorney, I can only say that body cameras are a no-brainer," Ward told the New York Daily News. "It creates an objective record."
You can share this story on social media: