Pentagon sends experts to Kiev as part of MH17 crash investigation
Published time: 6 Aug, 2014 13:05
Edited time: 6 Aug, 2014 13:09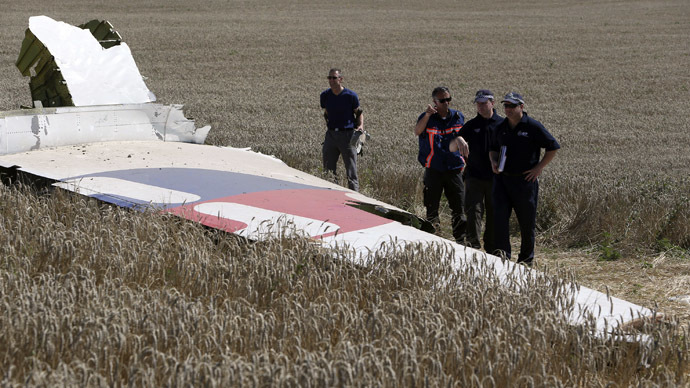 The Pentagon has sent an assessment team to the embassy in Kiev to provide support in piecing together the details of the investigation into the downing of the Malaysia Airlines plane.
According to the State Department's request, some 12 logistics and surveying experts arrived to the Ukrainian capital on Tuesday. The team "will assess, advise and provide recommendations to the US embassy and their staff about possible US support," Defense Department said on their website.
The experts are expected to join the existing international effort in analyzing data from the crash site. They won't actually be traveling to Ukraine's east, but operate entirely from Kiev.
The US is weighing support to the Netherlands, Australia, Malaysia and other partners in their recovery work.
"Recovery operations are something — tragically and unfortunately — the US military has to do and has to be good at," Defense Department spokesman Navy Rear Admiral John Kirby said, adding that "these people have expertise in that regard and again were asked by the State Department to come help assist."
The news comes amid disagreements between NATO and the Russian mission to it, who accused the organization of being eager to rush to conclusions and place blame on the Kiev forces without waiting for the results of investigation.
NATO exerting pressure, not interested in MH17 investigation – Russia's mission
The main qualm Moscow has with the organization is that its claims have repeatedly been accompanied by reference to evidence, which they however never presented. Secretary-General Anders Fogh Rasmussen keeps alluding to "a lot of information that indicate the separatists, supported by the Russians, are guilty [of the MH17 tragedy]," which the bloc's chief calls "a war crime."
It was therefore peculiar to Moscow that Rasmussen admitted the necessity of a "full independent international inquiry to establish the facts," yet wasn't willing to wait for the results.
Although he claimed that the separatists weren't allowing anyone into the area of the crash site near Donetsk, OSCE has noted earlier that the convoy "comprised 25 vehicles, including a bus and two mobile ambulances," for which everything went "smoothly."
Presently, just as Moscow's analysts voiced concern that Western appeals to end the fighting in eastern Ukraine are actually a smokescreen to later send in military aid to Kiev, they came back with allegations that Russia itself might send its troops in under humanitarian pretense.