NYPD releases footage of rapper getting shot in Bronx store (GRAPHIC VIDEO)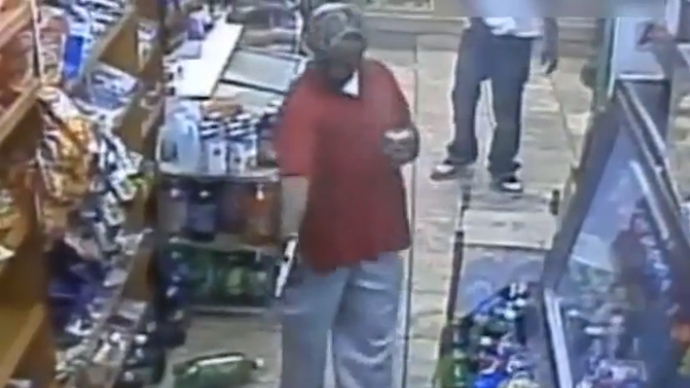 New York City police have released security footage allegedly showing a man shooting his "best friend" in a Bronx bodega after the pair argued over the filming of a hip-hop music video.
The suspect shot his cohort multiple times inside the bodega around 01:15 EDT on Saturday.
Local deli owner Ali Abdul said the pair he knew from the neighborhood had previously appeared to be "best friends," and that they were filming a rap video that evening with about 30 other people when the drunken argument ensued.
"They were fighting over who's the star, who's better," Abdul told the New York Daily News. "They were drunk. They spit at each other then one guy pulled out a gun and shot the other guy five times."
The unidentified victim, also pistol-whipped by the suspect, is reportedly in critical condition and is expected to survive. The suspect is still at large.
The security footage shows several customers following the suspect out of the bodega, stepping over the victim on their way out.
The suspect is a 30-year-old black man, 5-foot-10 tall and weighing between 180 and 210 pounds, according to police. He had braided hair and "was wearing a red polo shirt, gray sweatpants and black-and-white sneakers," the Daily News reported.
Police released the footage in hopes that information on the whereabouts of the suspect will emerge. NYPD has urged anyone with knowledge in regards to the shooting to call 1-800-577-TIPS or by logging onto the Crime Stoppers Website at www.nypdcrimestoppers.com. "When a tip leads to an arrest and indictment, you will receive an award up to $2000," according to the website.