Shackled inmate attacked by deputies in courtroom (VIDEO)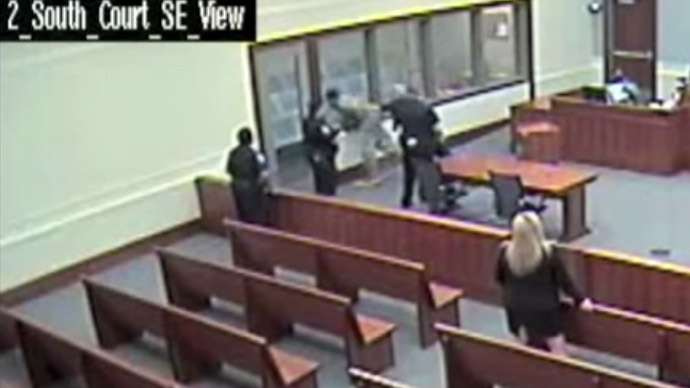 A Colorado man is suing the city of Denver and two sheriff deputies for $5 million over a 2011 incident in which one of those officers assaulted the man in court and left him with permanent injuries.
The ordeal in question happened on September 11, 2011 when Anthony Waller was in Denver County Court for the first advisement hearing related to domestic violence charges he was facing. Surveillance camera footage from the scene shows that Waller was restrained in multiple types of shackles as he stood in court and calmly spoke with Judge Doris Burd about his case.
Moments later, however, Waller was on the ground and eventually on his way to the hospital after one of the officers, Deputy Brady Lovingier, threw the shackled man into wall and then verbally berated him.
A hearing transcript provided by Waller's attorneys shows that he was in the middle of an exchange with Judge Burd when the unexpected outburst occurred.
Waller: I'd like to object to her (the alleged victim) story. If I'm under investigation, I thought the investigation came first, then the arrest came . . .
Judge: Right, well they have three day . . .
"At this point without warning, justification or provocation, Defendant Lovingier, who was directly behind Mr. Waller, grabbed Plaintiff's belly chain and shirt, spun Mr. Waller around and threw him face first into the metal frame entrance into the glassed-in court prisoner detention area," the attorneys write in the complaint for damages filed on Wednesday this week. "As a result of the Plaintiff Waller being chained and shackled he could not use his hands or feet to lessen the impact of his face and head being rammed directly into the glass wall and metal post by the Defendant Lovingier. Mr. Waller collapsed to the floor, seriously injured."
The incident occurred nearly three years ago, and has managed to make the Colorado news a few times in the span since: Denver's Department of Safety eventually suspended Lovingier for 30 days after an internal probe determined he had violated departmental rules, including using inappropriate force, neglect of duty and conduct prejudicial to the good order and effectiveness of the department, and Judge Burd testified against the deputy during his unsuccessful appeals proceedings.
"Burd found Waller's tone was not raised, not angry and not confrontational," the city's Career Service Authority reported after the suspension was upheld. According to a local ABC News affiliate, Burd testified that "it was the first time in her 25 years on the bench that she saw a deputy throw an inmate into a wall, and [she] believed it was a form of punishment," according to the ruling.
Waller's attorneys believe Lovingier's actions were unheard of as well, and allege that the deputy committed multiple constitutional violations against their client. Lawyers for the man are now seeking an injunction to stop Denver's use of excessive force in jail and punitive damages for violations of the Fourth, Sixth, Eighth and Fourteenth Amendments. The city of Denver, Denver County, Lovingier and another deputy, Gina McCall, are named as defendants in the suit.
"For decades, the Defendant the City and County of Denver has been incapable of stopping the use of excessive force by its law enforcement," the complaint reads in part. "The only remedy is for outside intervention to address the systemic, culturally ingrained use of excessive force by Denver law enforcement."
"Every deputy should be offended due to the lack of professionalism exhibited by Deputy Lovingier," Waller previously told the Colorado Independent. "Anyone who looks at that tape can see what happened."
This week, Waller told the ABC station that the incident is still upsettling years later.
"You're just going to snatch me, and slam, just savage, like you didn't care? Like, oh, if I kill you it's no problem?" Waller asked. "If the citizenry does nothing, you know, this is going to continue. Citizens should be afraid," he warned.
According to the complaint filed this week, Waller suffered bodily injuries to his head, including a deep head laceration, closed head injury and left orbital blowout fracture and injuries to his back, neck, legs, arms, ankles, including a hernia, as a result of the assault, and his teeth were knocked out.
The filing of Waller's suit this week comes just days after Denver officials said they'd pay another inmate $3.25 million to settle similar excessive force charges alleged at the city.
"We take every claim and lawsuit seriously and this case is no different," Denver City Attorney Scott Martinez told 7NEWS this week of the Waller case. "We will analyze the particular facts of this case and provide a timely response to this complaint through the court system."