California Highway Patrol 'to investigate' officer's brutal roadside beating of woman (VIDEO)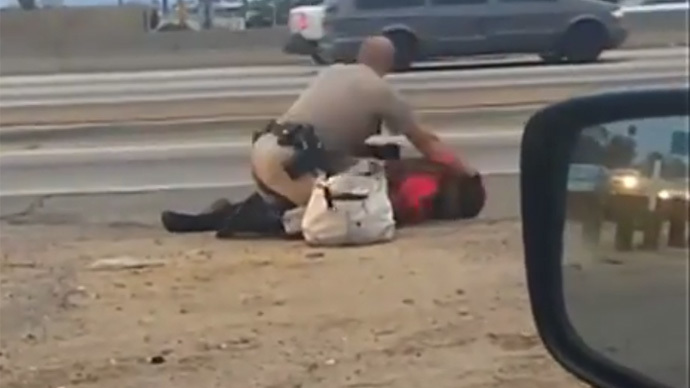 The California Highway Patrol (CHP) says it is investigating a video taken by a passing motorist of one of its officers repeatedly punching a woman in the head after she was allegedly walking along a Los Angeles motorway.
The CHP officer is shown on the video wrestling the woman to the ground, straddling her and then punching her at least 11 times in the face.
The violent confrontation was filmed on a cell phone by a music producer who happened to be passing on Freeway 10 near La Brea Avenue on Tuesday evening.
The officer is seen trying to arrest the woman, he then struggles with her briefly before straddling her and punching her hard, repeatedly in the face. A plainclothes officer then turns up and helps the uniformed man handcuff her.
David Diaz, the man who filmed the confrontation, told CBS2, a US TV news channel, that he thought the officer's behavior was "excessive and brutal."
"He just pounded her, if you look at the video, there are 15 hits. To the head, and not just simple jabs. These are blows to the head. Blows. Really serious blows. I find it hard to believe there was no other remedy in this situation," said Diaz.
But CHP Assistant Chief Chris O'Quinn, while not defending the officers' conduct, tried to mitigate it and offer an explanation at a Friday press conference.
He said the woman had been endangering herself and people while wondering about in traffic. O'Quinn said the incident report did not list any injuries to the woman, who is undergoing a psychiatric evaluation.
The video "only shows a small part of what transpired," O'Quinn said, adding that "there were events that led up to this."
He also noted that Highway Patrol officers have a heightened sense of the danger of traffic on freeways compared to citizens who are not used to the speed vehicles travel at.
He insisted that the CHP would answer any concerns from the community and that a full investigation is already underway and that as it is ongoing it would be premature to comment on the video.
"We are known as an agency that really polices itself," insisted O'Quinn.
The officer concerned who has not been named is currently on administrative leave while the investigation is concluded.
Local civil rights leaders have expressed their anger and shock at the video.
"Speaking for the women of this community, we are angry, we are upset," Lita Herron of the Youth Advocacy conference told AP.
You can share this story on social media: