​Muslims sue federal govt for stonewalling citizenship requests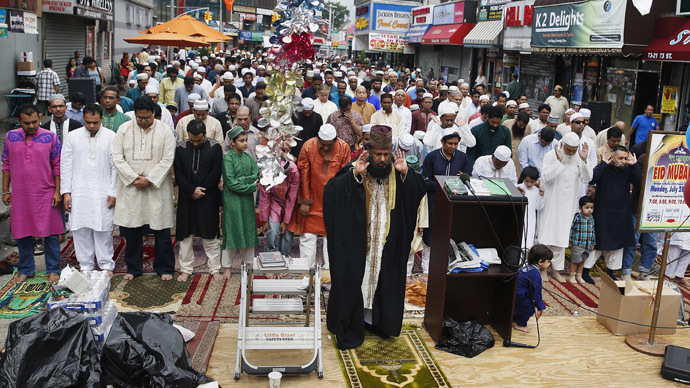 A lawsuit is challenging a little-known program that allows the Department of Homeland Security to block citizenship and green card applications for security reasons. The plaintiffs say they fell victim to profiling against Muslims.
The five long-time US residents are all either practicing Muslims or come from Muslim-majority countries. Two of them are Iranians, two others are Palestinian nationals and one is a refugee from Somalia.
On Thursday, with the help of the American Civil Rights Union (ACLU) they challenged in a federal court in Los Angeles the program called CARRP, or Controlled Application Review and Resolution Program, which allows the US Citizenship and Immigration Service (USCIS), DHS's branch tasked with reviewing immigration petitions, to delay applications.
Under CARRP the government routinely delays petitions from thousands of applicants from Arab, Middle Eastern, and Muslim South Asian countries, according to ACLU.
The only justification they need to provide is that the applicant poses a national security concern, with the definition of what can be considered one broad and vague. For instance CARRP automatically applies to all people on the US government's terrorist watch list, which reportedly includes up to 1 million names. A simple association with anyone already on the list is enough to be included on it, ACLU said.
In practice, CARRP de facto creates an immigration blacklist, the rights group believes, with no possibility for people on it to know why they were added or to challenge this decision.
"Our clients are long-time, law-abiding residents of the United States who, for years, the government has walled off from becoming citizens and lawful residents of this country without legal authority to do so," said Jennie Pasquarella, an attorney with the American Civil Liberties Union of Southern California.
One of the plaintiffs, Iranian Abrahim Mosavi, has been waiting for his citizenship application to be reviewed for 14 years without success. The process is supposed to take no more than six months.
ACLU says the people they help with their lawsuit have been denied their constitutional right to due process. It also said the implementation of CARRP was done with little congressional oversight, no public debate and in contradiction to the Immigration and Nationality Act, which regulates the rules on how a person can gain US citizenship or a green card.