'We experiment on human beings!' OkCupid unapologetic about experiments on users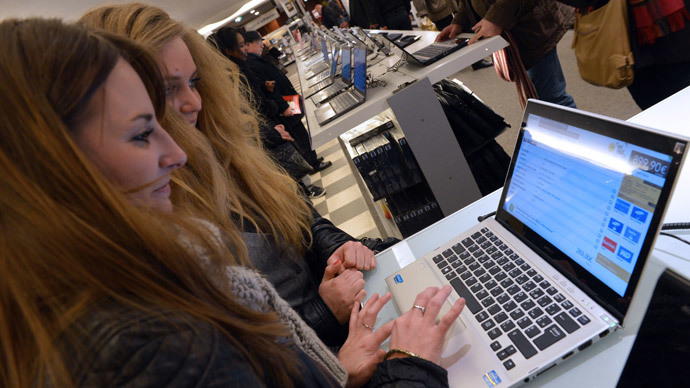 'I did it for your own good' is not what you want to hear when the dating site you use sets you up on a bad date. On purpose. 'Everybody does it' is similarly disconcerting. But that's exactly what OkCupid is saying about experiments involving its users.
The free dating and social networking website announced, "We experiment on human beings!" in a blog post on Monday.
"OkCupid doesn't really know what it's doing. Neither does any other website. It's not like people have been building these things for very long, or you can go look up a blueprint or something," the website's co-founder Christian Rudder wrote. "Most ideas are bad. Even good ideas could be better. Experiments are how you sort all this out."
Rudder pointed to the recent uproar when researchers let slip that Facebook conducted a psychological experiment on 689,003 randomly selected English-speaking users by manipulating their emotions without their knowledge. The company issued an apology for accessing the content of the human lab rats' pages, but the social media network's second-in-command said she has no regrets.
"But guess what, everybody: if you use the Internet, you're the subject of hundreds of experiments at any given time, on every site. That's how websites work," the OkCupid co-founder wrote.
The free love-matching site features member-created quizzes and multiple-choice questions, and supports multiple modes of communication, like instant messages and emails. The company touts its matching algorithm as the best because "We use math to get you dates. It's extremely accurate, as long as (a) you're honest, and (b) you know what you want."
Users are also able to rate each other. Those who receive high ratings may be notified by email that they are in the "top half of OkCupid's most attractive users" and "will now see more attractive people in [their] match results." The email also reads, "And, no, we didn't just send this email to everyone on OkCupid. Go ask an ugly friend and see."
OkTrends, the official blog of OkCupid, presents statistical observations from its user interactions. It was there that Rudder explained three of the experiments the site used on its unaware guinea people.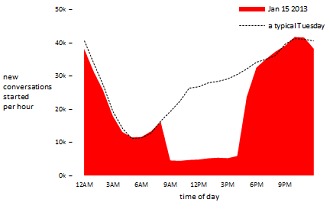 The first experiment, called 'Love is Blind, or Should Be', occurred when the company released its blind date app on January 15, 2013. For seven hours, OkCupid hid all user pictures, then compared the site metrics to that of a typical Tuesday.
"When the photos were restored at 4PM, 2,200 people were in the middle of conversations that had started 'blind'. Those conversations melted away," Rudder wrote. "The goodness was gone, in fact worse than gone. It was like we'd turned on the bright lights at the bar at midnight."
His conclusion from Love is Blind Day? "[In] short, OkCupid worked better."
The second experiment, called 'So What's a Picture Worth?', looked into how users ranked profiles and pictures together versus pictures alone. The company believed that text in a profile didn't matter, and hid the text from a sample of users' profiles half the time, and compared the scores of the picture-only against the same profile that also contained text.
So are people reading what their potential soul mates are writing? "Essentially, the text is less than 10 [percent] of what people think of you," Rudder said. "So, your picture is worth that fabled thousand words, but your actual words are worth…almost nothing."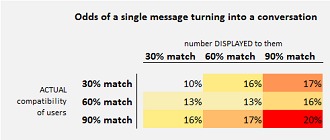 The final test that outlined, called 'The Power of Suggestion', they told possible matches who, in all likelihood, really weren't meant to be ‒ those who only had a 30 percent "math percentage" based on the OkCupid algorithm ‒ that they were "exceptionally good for each other, displaying a 90 [percent] match)." The site wanted to find out if the "mere suggestion" that a potential pairing was a good one caused people "to actually like each other," and they then started a real conversation (which they define as four messages exchanged between the two people). They also did the same with those who were a good match, telling them that they were a bad match.
Rudder said that the ideal situation is when a couple is both told they are a good match and actually are a good match. "OkCupid definitely works, but that's not the whole story. And if you have to choose only one or the other, the mere myth of compatibility works just as well as the truth. Thus the career of someone like Doctor Oz, in a nutshell. And, of course, to some degree, mine," he wrote.
Outside social media researcher Rey Junco, who works at the Berkman Center for Internet and Society at Harvard University, told ReadWrite.com that he thinks OkCupid's testing was more benign than Facebook's.
"What could have happened with the Facebook manipulation was that there was a potential for harm," Junco said in the interview. "The worst thing could have happened [with the OkCupid testing] is people send a few more messages, and maybe you went on a date you didn't like."
In its privacy policy, OkCupid does disclose that it may use its customers' information for research and analysis.
You can share this story on social media: