Hawaii mayoral candidate tased after police chase (VIDEO)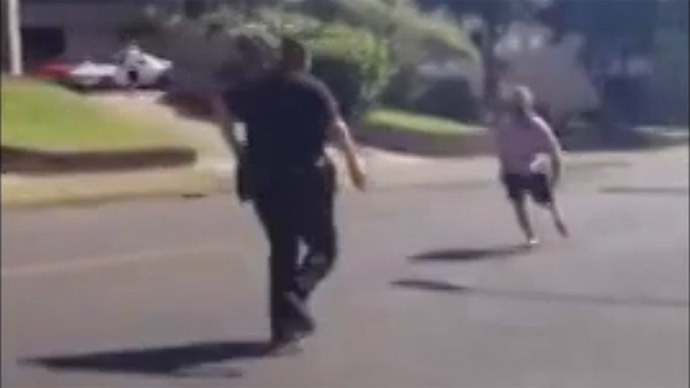 Beau Hawkes isn't the only contender in the upcoming Maui County, Hawaii mayoral race, or even the only one to be arrested in recent weeks. Currently, however, Hawkes is the only hopeful that can say he was tasered while trying to run from the cops.
Following an electrifying encounter with local law enforcement last Wednesday that ended with Hawkes being charged with resisting arrest and failing to obey an officer, the 34-year-old surfer candidate is free on $300 bail and says he is "absolutely" still running for office.
Furthermore, the potential future mayor of Maui says he's going to sue the police department over his latest run in with the law and, once elected, will order cops to discontinue using their stun guns.
"Tasers are a violation of our human rights," the mayoral hopeful told KITV News this week. "Maui Police Department will be the first police department to ban the user of Tasers."
Hawkes' promise to sue city officials and his attempt to be elected mayor will likely both be decided at least in part by amateur video footage of last Wednesday's incident in which the self-proclaimed hippie candidate was recorded running from a cop who resorted to discharging his Taser to make an arrest.
According to Hawkes, the incident all started to unfold last Wednesday when he was pulled over for both driving a car without license plates and operating the vehicle while talking on the phone.
"I do not use license plates, driver's license, pay taxes, do anything that would bring me into the corporate America system," Hawkes, a sovereign citizen who also sells bongs made out of bamboo, told Hawaii News Now.
The mayor candidate claims he left the scene soon after with the cop's permission so that he could attend a county council committee meeting being held on genetically-modified crops. After the hearing, however, Hawkes had a run-in once again with the officer, at which time an eyewitness started recording as the incident unfolded.
Towards the start of the video clip, the officer appears to be attempting to put Hawkes under arrest.
"He said, 'Turn around, you're under arrest.' I said, 'What are you arresting me for? I've done nothing,'" Hawkes explained to Hawaii News Now.
Then within seconds, the video shows Hawkes fleeing on foot away from the cop.
"Come on, cop. You can't do this, dude. You can't do this," Hawkes is heard yelling at the officer as attempts to elude the police.
Moments later, the cop is caught firing his Taser and Hawkes, sending the man face-first to the asphalt road.
Now as the mayor candidate prepares his lawsuit, a noted local attorney says he might have a chance at winning.
"(A court ruled) you can only use it in circumstances where the police officer is threatened with some degree of harm, or members of the public are threatened with some degree of harm," said attorney Eric Seita, according to Raw Story. "If you're dealing with somebody who merely committed traffic offenses and is not threatening the officer, as far as I'm concerned there's no question, this is an improper and inappropriate use of the Taser."
"Without question, this officer ought to be relieved of his duties, put on desk assignment and probably subjected to a serious disciplinary action," Seita added to KITV.
Meanwhile, the escapade isn't the only example in recent weeks of a would-be Maui mayor ending up on the wrong side of the law: last month, fellow candidate Nelson Wai­kiki Jr. was arrested for allegedly violating the terms of his release in another criminal case.
And as for Hawkes, he seems well aware of the ridiculousness surrounding the entire incident.
"You couldn't write this stuff," he told the Honolulu Civil Beat, adding that the events seemed "divinely inspired."
"I told the officers that I loved them. I told them that I forgive them. I thought it was kind of funny that they had tasered their future mayor," he told Hawaii News Now.
You can share this story on social media: