US pulling out its Cold War-era plans over Ukraine conflict, top commander admits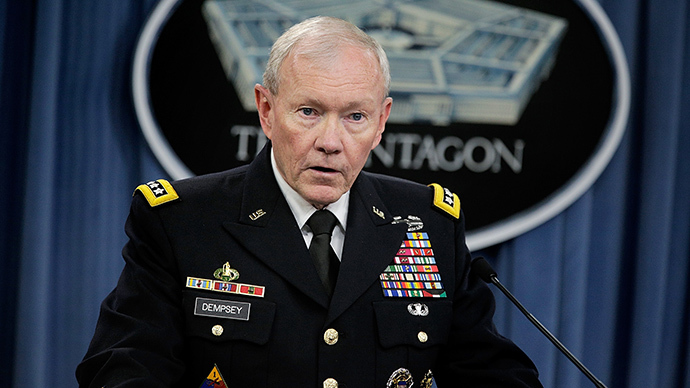 The United States military's top commander said during a security summit this week that the ongoing crisis in eastern Ukraine has prompted the Pentagon to revisit old contingency plans unused since the days of the Cold War.
Gen. Martin Dempsey, the chairman of the Joint Chiefs of Staff, said Thursday at the Aspen Security Forum that the US Department of Defense has been "looking inside of our own readiness models to look at things we haven't had to look at for 20 years."
Commenting on the latest allegations against Russia to surface in the midst of the escalating situation in Ukraine, Gen. Dempsey said that the Kremlin "has made the conscious decision to use its military force inside of another sovereign nation to achieve its objectives."
"They clearly are on a path to assert themselves differently not just in Eastern Europe, but Europe in the main, and towards the United States," Dempsey said of Putin's government.
Hours before Dempsey delivered his address at the Aspen Security Forum, US State Department spokesperson Marie Harf said during a scheduled press briefing that new intelligence has surfaced suggesting Russia has been firing artillery at Ukrainian military positions from within its own borders. As RT reported at the time, however, Harf's remarks were quickly questioned by Associated Press reporter Matthew Lee, who in turn called upon the State Dept. to present any evidence beyond the spokesperson's otherwise unsubstantiated allegations.
"I think that it would be best for all concerned here if when you make an allegation like that you're able to make it up with something more than just 'because I said so,'" Lee countered Harf's claims.
Soon after, though, Dempsey said during his Aspen speech that reports of Russia firing into Ukraine, if correct, would constitute the "first time, I think, probably, since 1939 or so that that's been the case." That year, Soviet Union leader Josef Stalin led the Red Army into Poland unannounced and annexed that territory and its 13.5 million citizens on behalf of the USSR.
"I think this is very clearly Putin, the man himself, with a vision for Europe, as he sees it, to what he considers to be an effort to redress grievances that were burdened upon Russia after the fall of the Soviet Union, and also to appeal to ethnic Russian enclaves across Eastern Europe with … a foreign policy objective, but also a domestic policy objective," Dempsey said. "And he's very aggressive about it, and he's got a playbook that has worked for him now two or three times. And he will continue to [use it]."
Regardless of what the Russian president's intentions are, Dempsey said that Putin's forces are in his opinion hesitant to engage in the Kremlin's current campaign as interpreted by the US government.
"I think that the Russian military is probably reluctant -- -- you know, this is risky for me to say this, and 10 of them could end up in a gulag tomorrow -- but I think that the Russian military and its leaders that I know are probably somewhat reluctant participants in this form of warfare," he said.
Even still, Dempsey added, the results could be catastrophic.
"At a time when some folks could convince themselves that Putin would be looking for a reason to de-escalate, he's actually taken a decision to escalate," Dempsey said. "Putin may actually light a fire that he loses control over," he said. "There's a rising tide of nationalism in Europe right now that has been created in many ways by these Russian activities."
"And I think that's a real risk," Dempsey said. "So I am maintaining an open line of communication with my counterpart, and so far, he's doing the same with me."
Earlier this week, Army Col. Steve Warren, a spokesperson for the Pentagon, told reporters that the Defense Department was scheduled to send military advisers to Ukraine within weeks to "shape and establish an enduring program for future US efforts to support the Ukrainian military through subject-matter expert teams and long-term advisers."
You can share this story on social media: