Putin: I don't think new Cold War will start, no one wants it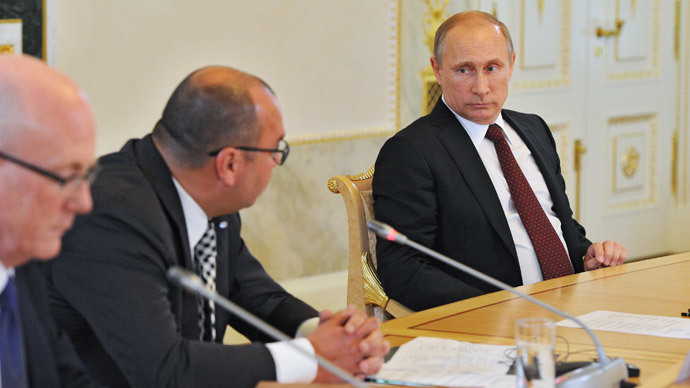 The Russian president believes a new Cold War is unlikely as no one is interested in it. Vladimir Putin cited Crimea as Moscow's "reasonable response" to "the language of force" the West was trying to use, but added it should not happen again.
"I really would not like to think that this is a beginning of a new Cold War," he said speaking with the heads of the world media at St. Petersburg International Economic Forum. "I think this is not going to happen."
The 'new Cold War' rhetoric has been rife in the West as the situation around the Ukrainian crisis becomes increasingly tense.
Those who provoked the armed coup in Ukraine should have thoroughly weighed up the consequences that would follow, Putin stressed.
"Those who had been provoking the armed coup in Kiev should have thought, if they were real professionals, about the consequences of their illegal ambitions," he said, adding that he hopes that what happened in Ukraine "will become a precedent which has its own negative consequences, but still would revive a conscientious attitude to international law and practice of agreeing positions based on each other's interests," rather than "methods of using force."
'Russia won't just sit on a bench and listen to what others say'
Touching on Russia's actions towards Crimea, Putin said it was a reasonable response on the part of Russia.
"We think that [the West] tried to talk to us in the language of force, and we, using the same logic, gave a reasonable answer. But I hope that this will never, under any circumstances, happen again anywhere," Putin said.
When it comes to cooperation, particularly with the US, Russia will not "just sit on a bench and listen to what others say."
"This is not the role Russia would agree on," Putin said, stressing the importance of taking into account partners' interests. But in bilateral relations there are lines "that can't be crossed".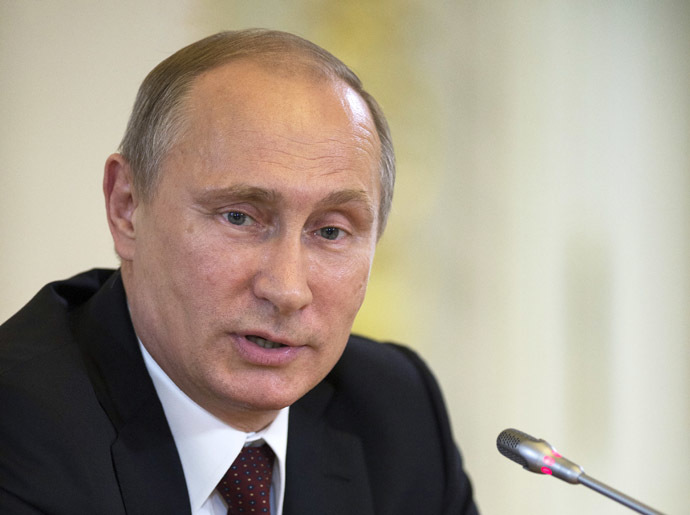 In Russia-US relations, in particular, Crimea was "that same line", Putin pointed out.
"Tools are good when they are used," he said. "If we have platforms for mutual work, these are not platforms for having tea or coffee all together. These are platforms for finding solutions and compromises."
In this regard Putin also pointed out reactions to the crisis in Ukraine which came from Canada.
"What about Canada's position, it is traditional and close ally of the US, nothing surprises us here," he said. "But where is Canada and where is Ukraine and Russia?" Putin added, stressing that neither Canada, nor the US has "this volume of national interest" as Russia does.
Russia's leader has expressed confidence that many people living in Europe share Russia's stance on the Ukrainian crisis.
"Russia's stance over Ukraine is a fair one and European people see that," he said. "Conduct an opinion poll in Europe - I am not sure at all that the majority of citizens support their political leaders' stance on that matter. I have all grounds to assume that our position has very many supporters," he said.
After Crimea voted in the March referendum to join Russia, the West voiced concerns that President Putin was aiming to recreate the old borders of the Soviet Union and is going to "annex" more of CIS countries.
Putin denied having such ambitions, saying that this popular opinion in the West is no more than an "element of information warfare."
"This is a wrong impression and, I think, it is not what corresponds to reality, but that is a tool of information warfare," he said. "They try to stick this label on us — a label that we are trying to restore an empire, the Soviet Union."
Moreover, he stressed, Russia "never thought of joining Crimea, our special services were not working there."
'Isolating Russia is impossible'
As for the Western sanctions against Russia, "I think that they are absolutely counterproductive, not based on a fair attitude to existing problems, and driven by a desire to impose on Russia international relations developments that do not correspond either with international law or with mutual interests. They certainly do not correspond with Russian interests," Putin said.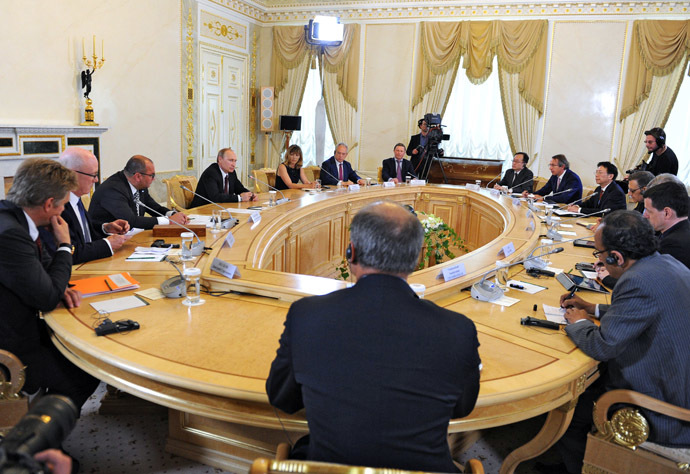 Isolation of Russia is "impossible," Putin stressed, adding that there is a "mutual dependence" between Russia with both the US and EU.
"Maybe damage, not minor, could be done to each other in conditions of the rather complicated situation within the global economy. And who needs this?" Putin said. "Possible consequences will be negative for everybody and may lead the European, Russian and world's economies to turbulent processes that no one is interested in," he said.
In fact, he stressed, "Some events which happened in Ukraine threaten Russia's interests, first of all in terms of national security."
Putin particularly referred to NATO's intensified activities and possible Ukraine's acceptance to the alliance.
"This could have been followed by not only acceptance, but also deployment of assault systems on the territory of Ukraine, including Crimea," he said. "If this had happened, it would have had serious geopolitical consequences for Russia; our country would have been forced out from the Black Sea region, and Russia has been fighting for centuries for the legitimate right to a presence there."
'This is not what monarchs do'
Focus on national interests of partners is key to improved relations and effective work, Putin pointed out. Speaking about relations with Great Britain, he said that if this is how relations will be built and partners there follow "national interests but not some other thoughts", Moscow and London will continue cooperation, like it was "back in the past."
"We'll maybe reach some new frontiers, we will think about what we do in the future in order to work effectively together," he said.
When asked about Prince Charles allegedly comparing him to Hitler, Putin said he did not hear anything about that. But if this is true, it is "unacceptable" and "wrong".
"He has been to our country more than once, if he made such a comparison, it is unacceptable and I am sure he understands that as a man of manners," Putin said. "I met him personally, as well as other members of the Royal Family. This is not what monarchs do."
You can share this story on social media: