'Nonsense!' Putin slams Kiev's stance on detained Russian reporters
Accusations of illegally transporting weapons and "aiding terrorism" against Russian journalists detained in eastern Ukraine are "nonsense and delirium," President Vladimir told reporters, calling the situation "unacceptable."
"It's absolutely unacceptable what is happening with the journalists, because the LifeNews journalists are now being accused of all mortal sins, including that they were selling weapons, which is nonsense, utter nonsense," Vladimir Putin told the media in Shanghai, where he was for a two-day visit.
Kiev's crackdown on reporters working in Ukraine will affect Moscow's relations with "new Ukrainian authorities," Putin warned.
"There are also foreign citizens who work for Russian mass media being detained. This is unacceptable," Putin said, adding that from the beginning this situation will call into question the legitimacy of "all these political procedures."
"In any case, political process, including going on legitimization of the existing authorities, is of course a positive step. At the same time, it will be difficult for us to build relations with people who come to power amid the ongoing punitive [military] operation in the south-east of Ukraine and hinder the work of press," he said, adding that they not only "hinder, but behave more and more aggressively."
"From the point of view of objectivity of the results, this will raise questions and I really hope that our partners in Europe and the US will hear and understand, eventually, that is going on," Putin added.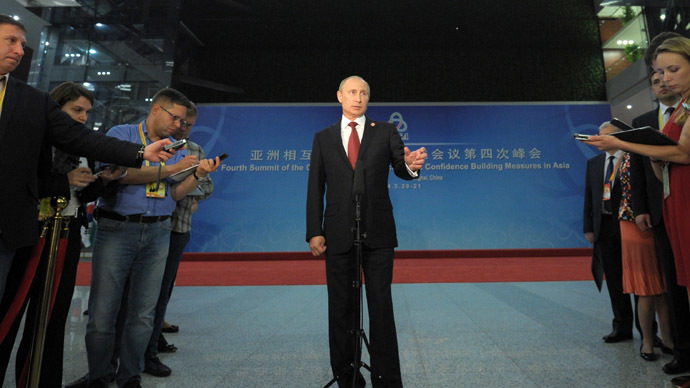 The two journalists, Oleg Sidyakin and Marat Saichenko, working for Russia's LifeNews TV channel, were detained by Kiev loyalist troops on Sunday, presumably near Kramatorsk in the Donetsk Region.
While the correspondents' whereabouts are currently unknown, they are "alive, healthy and safe", a member of Russia's presidential Human Rights Council negotiating with Kiev authorities, Maksim Shevchenko, RIA Novosti reports.
Kiev accuses the two reporters of aiding "terrorists," claiming that portable anti-aircraft missiles were found in the trunk of their car.
LifeNews dismissed the accusations as "unfounded speculations" and assumed that the detention of its staff came in revenge on their people for releasing footage showing Ukrainian troops using a UN-badged strike helicopter in the Donetsk Region.
On Wednesday, a video message from Saichenko emerged on YouTube. In this clip, Saichenko confesses that he and his colleague concealed the fact that they were journalists while at the border control in Borispol Airport outside Kiev, because they were afraid of being "expelled from the country."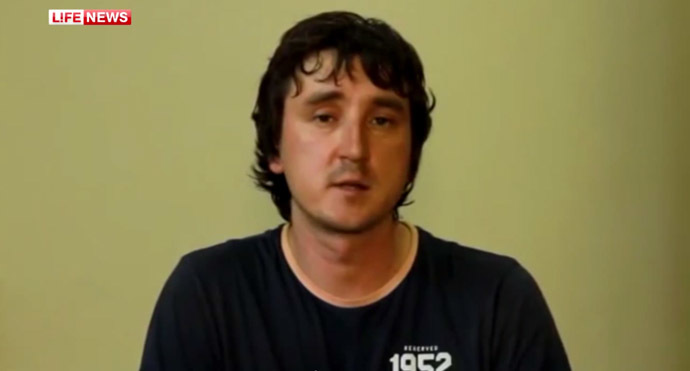 "We said we were going to attend a concert," Saichenko says in the video. "At the same time, we left our journalist credentials in Moscow to hide this [profession]," he continues.
"From Kiev we came to Donetsk. We got credentials and a journalism license from the Donetsk People's Republic representative to cover the referendum," Saichenko says.
While working in the region, Sidyakin and Saichenko "were in contact with self-defense forces and citizens" and "didn't have any contacts with Ukrainian army and authorities."
"We were detained by Ukrainian army officers on May 18," Saichenko says in the video.
However, LifeNews General Director Ashot Gabrelyanov, commenting on the video, would not rule out that it had been recorded under pressure. Gabrelyanov, who also reposted the video, compared SBU to terrorists saying they were "acting like Al-Qaeda."
"It is not clear who posted this video, but I think it was SBU (Security Service of Ukraine)," he said, according to ITAR-TASS. "Lawyers and even international observers were not allowed to the journalists. They may have been drugged." He also stressed that the correspondents had all the necessary documents for border crossing.
LifeNews has sent a letter to the US State Department, which parroting Kiev's position, questioned whether the detainees are journalists at all.
"The Ukrainian Security Services, according to reports, have detained a number of people who were in possession of fake journalist credentials issued by the non-existent Donetsk People's Republic," US State Department spokeswoman Jen Psaki said at a daily press briefing.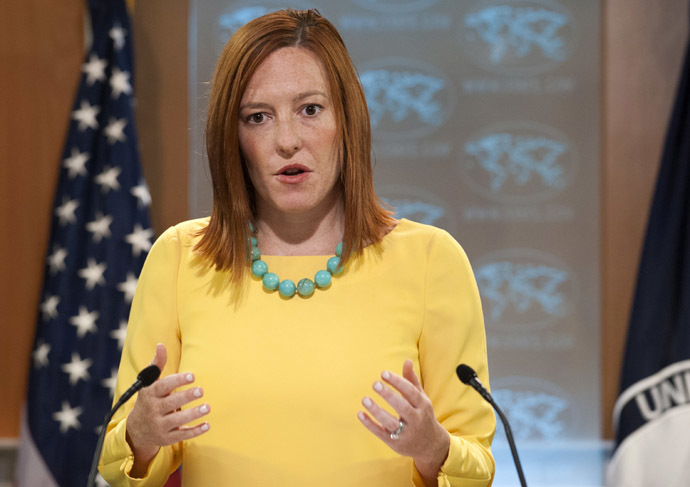 LifeNews offered to provide the State Department with any information on the detainees' journalistic record that it might want.
"The management of the LifeNews television channel has reacted to a statement by Jennifer Psaki, a spokesperson for the US State Department, in which she expressed doubt that Oleg Sidyakin and Marat Saichenko are reporters. In a statement issued in response, [the LifeNews managers] drew the attention of the American diplomatic service to factual evidence of the abduction of the LifeNews reporters and use of violence against them," LifeNews said in a press release.
It urged the State Department to "weigh all the facts and make a decision on the basis of that sacred principle that is defended in American society so zealously the principle of freedom of expression."
The statement also stressed that no evidence had yet been offered to back the Ukrainian Security Service's allegations that the purpose of the visit by Sidyakin and Saichenko to Ukraine was to "aid terrorists."
Russia has accused the US of turning a blind eye to the crimes committed against journalists opposing the Kiev regime and justifying the arrests of foreign journalists in Ukraine, the Foreign Ministry said in a statement.
Meanwhile, the British Foreign office has confirmed that its citizen, RT-contributing journalist Graham Phillips, has been detained in Ukraine.
Phillips was detained at a checkpoint in Mariupol, eastern Ukraine, on Tuesday and was taken to Kiev overnight by the Ukrainian National Guard.
You can share this story on social media: