'Outrageous!' Moscow hits back at Prince Charles over Putin-Hitler comparison
Moscow has demanded an official explanation from the UK over reported comments in which Prince Charles, heir to the British throne, compared Vladimir Putin's actions in Ukraine to those of Adolf Hitler in the run up to World War II.
"If such comments were genuinely made, they do not reflect well on the future King of England. We are not concerned, we are outraged," said Russian Foreign Ministry spokesman Aleksandr Lukashevich.

"As one of the members of the UK's Labour Party said, royals should be seen and not heard," continued the Russian official, who said that any response will depend on the explanation offered by the British side.

The Russian ambassador in London met with Foreign Office representatives on Thursday afternoon, but the British side refused to comment on what it termed a "private conversation".

The royal's remarks, allegedly made to a 78-year-old Canadian during an official visit to the country, surfaced earlier this week.

When Marienne Ferguson described escaping Gdansk in Poland 1939 ahead of the invasion by Nazi Germany, the prince reportedly said "And now Putin is doing just about the same as Hitler," referring to the recent incorporation of formerly Ukrainian Crimea into Russia.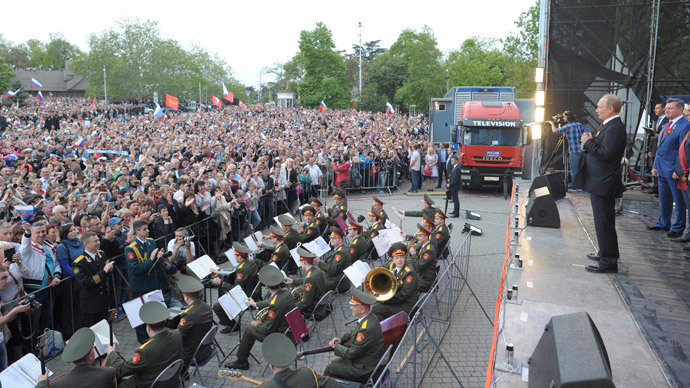 Ferguson, who revealed the conversation to the Daily Mail, said the remarks appeared
"heartfelt and honest."
The Royal Family's press office did not deny the content of the chat, but insisted that
"the Prince of Wales would not seek to make a public political statement during a private conversation."

The comments provoked a mixed response from the UK's political class.
"If Prince Charles wants to make controversial statements on national or international issues he should abdicate and stand for election. In a constitutional monarchy, policy and diplomacy should be conducted by parliament and government. Monarchy should be seen and not heard,"
said a tweet from Mike Gapes, a senior Labour MP and former chairman of the Foreign Affairs Select Committee, the UK parliament's international policy body.
But his party leader, Ed Miliband, said that the King-in-waiting
"has got a point about President Putin's actions and he is absolutely entitled to say that there are real concerns about that."
Just as the Foreign Office, Prime Minister David Cameron said it was not his business to comment on private conversations, but stated that
"everyone's entitled to their private opinions."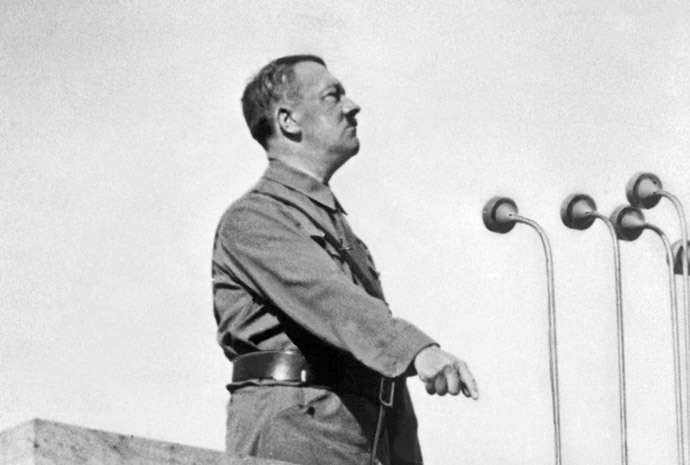 Liberal Democrat Deputy Prime Minister Nick Clegg was also sanguine.

"I have never been of this view that if you are a member of the royal family somehow you have to enter into some Trappist vow of silence," he told the BBC.

An influential political voice from outside of parliament came from Nigel Farage, the leader of UKIP, who previously described Putin as the politician whose savvy he most admires.

"I think there's a difference [between Putin and Hitler] and the difference, I think, is that right from the very start Hitler was expansionist and we haven't seen much evidence of that until now from Putin.

"And arguably what's happened in the Ukraine is because he's been poked with a stick by the rest of the world.

"All I want to say is this: I think the EU pursuing an expansionist foreign policy and saying to the Ukraine, 'We want you to join our political union, oh, and why not join NATO too?' That's not exactly helped things in the region."

While Prince Charles' comments are controversial in view of sensitivity to political meddling from unelected Royals, and his previous array of outspoken views on issues as wide-ranging as global warming and UK's education system, this is not the first time this comparison has been made by a senior figure.

Back in March, the frontrunner for the next US Democratic presidential nomination Hillary Clinton made a similar comment, saying that Putin's international stance "sounds familiar, it's what Hitler did back in the '30s."
You can share this story on social media: