'Concrete facts are not necessary' - Obama administration makes blacklisting air passengers easier than ever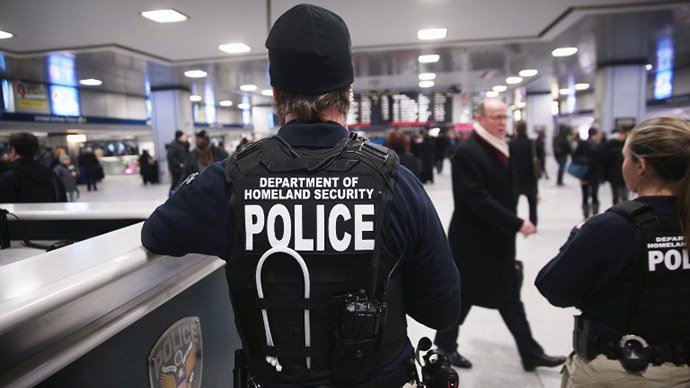 A never-before-published document released by The Intercept on Wednesday reveals the flexibility with which United States officials may place individuals on watchlists and deem them terrorists without obtaining concrete proof.
The 166-page document, the "March 2013 Watchlisting Guidance," suggests that the US government relies on "a secret process that requires neither 'concrete facts' nor 'irrefutable evidence' to designate an American or foreigner as a terrorist," journalists Jeremy Scahill and Ryan Devereaux wrote this week.
According to an excerpt of the lengthy but unclassified document, the guideline was "developed to help standardize the watchlisting community's nomination and screening process," which federal agencies implement when encountering persons that officials may believe are linked to terroristic activity.
The document suggests that those officials have a wide breadth with regards to evaluating suspects, however, and that one White House official even has the power to unilaterally place "entire categories" of people onto lists that may bar those individuals from traveling by air. The Obama administration, the journalists claim, "quietly approved a substantial expansion" of the list last year, allowing more individuals to be targeted than before with less evidence than before.
Elsewhere, the document contains verbiage which reveals that individuals may be targeted by the feds and placed on such lists without the government relying on any evidence to support claims that those persons present a serious risk.
"In determining whether a REASONABLE SUSPICION exists, due weight should be given to the specific reasonable inferences that a NOMINATOR is entitled to draw from the facts in light of his/her experience and not on unfounded suspicions or hunches. Although irrefutable evidence or concrete facts are not necessary, to be reasonable, suspicion should be as clear and as fully developed as circumstances permit," one excerpt reads.
In another part of the document, the journalists write, "uncorroborated" social media postings are considered fair game when it comes to deciding whether or not to place a person on such a watchlist.
"Single source information," the guidelines state, "including but not limited to 'walk-in,' 'write-in,' or postings on social media sites, however, should not automatically be discounted … the NOMINATING AGENCY should evaluate the credibility of the source, as well as the nature and specificity of the information, and nominate even if that source is uncorroborated."
Furthermore, in other instances federal agents may elect to nominate someone to be placed on a watchlist due to the contents of their pockets at the time of being searched, according to the report, and specifically requests that "any cards with an electronic strip on it (hotel cards, grocery cards, gift cards, frequent flyer cards)" by analyzed by officials.
Responding to The Intercept ahead of Wednesday's publication, Hina Shamsi of the American Civil Liberty's National Security Project said that "Instead of a watchlist limited to actual, known terrorists, the government has built a vast system based on the unproven and flawed premise that it can predict if a person will commit a terrorist act in the future."
"On that dangerous theory, the government is secretly blacklisting people as suspected terrorists and giving them the impossible task of proving themselves innocent of a threat they haven't carried out." Shamsi said. "These criteria should never have been kept secret."
And although the document is not classified as top-secret, US Attorney General Eric Holder wrote in an affidavit, according to The Intercept, that the Watchinglist Guidance "contains national security information that, if disclosed … could cause significant harm to national security."
You can share this story on social media: