A venture into socialism? Kentucky town becomes first in US to open its own gas station
Published time: 21 Jul, 2014 20:51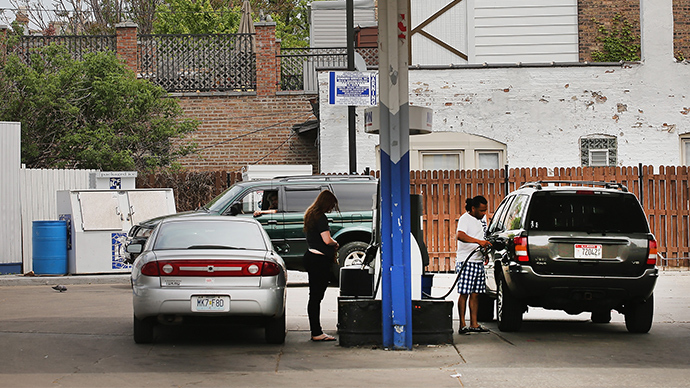 A Kentucky town listened to its citizens' complaints about high gas prices within its borders, and responded by opening a gas station run by the city government. Now critics are accusing Somerset's officials of socialism.
The city of 11,000 opened the gas station on Saturday, and 75 customers filled up in the first three hours, according to WDRB. It served 360 vehicles over the course of the entire day, according to WTVQ.
A gallon of regular unleaded - the only type of gas sold - cost $3.36, which is three cents cheaper than at several nearby stations. Gas in the town often averages 20 to 30 cents a gallon more than in neighboring towns, George Wilson, the town's economic development business coordinator, told the Associated Press. The no-frills station does not have a convenience store or a mechanic.
The mayor, Eddie Girdler, said the station was created in response to years of grumbling by townspeople about consistently high prices. It is repurposed from a government-vehicle-only station to one that can be used by the city's residents and visitors.
"I'm tickled to death that they're trying to do something," Ed Bullock told AP as he filled up his car. "I'm glad they made the investment."
Owners of nearby gas stations and convenience stores were not impressed by the new competition, saying that the government has no business imposing itself into the private sector.
Girdler was not swayed. "We are one community that decided we've got backbone and we're not going to allow the oil companies to dictate to us what we can and cannot do," the Republican mayor said. "We're going to start out small. Where it goes from here we really don't know."
The amount motorists are charged will be based on an average regional price for gas, and will include a small markup to cover costs, the mayor said. The city isn't out to make a profit, he added. Instead, the goal is to lower gas prices and lure more lake visitors into Somerset, according to Girdler.
The city's gas supplier is a hometown company, Continental Refining Co.
But Duane Adams, who owns a convenience store in the town, said the city's station is a slap in the face to local businesses.
"They've used the taxpayer money that I have paid them over these years to do this, to be against us," he said. "I do not see how they can't see that as socialism."
The Kentucky Petroleum Marketers Association has come out against the station as well, and urged other municipalities not to follow in Somerset's footsteps.
"If milk got too high, are you going to build a dairy?" said Ted Mason, executive director of the Kentucky Grocers Association and Kentucky Association of Convenience Stores.
But Girdler said the city is not looking to turn a profit or drive anyone out of business.
"We don't care if we don't sell a drop of gasoline," he said. "Our objective is to lower the price."
And customers said that is what they are looking for as well.
"I'm glad somebody finally got some sense and lowered the prices," said Patty Gossett.
Another customer, Samir Cook, said he hopes the city-run station drives down prices. "As long as I can get gas cheaper, that's really what I care about," he said.