FBI entrapped suspects in almost all high-profile terrorism cases in US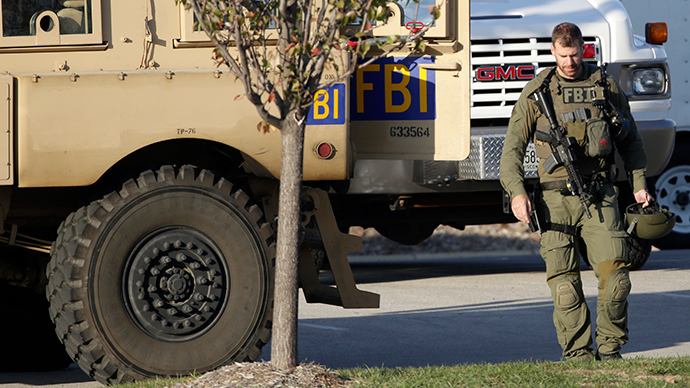 A new report by Human Rights Watch accuses the FBI of using sting operations to entrap informants, creating terrorists out of law-abiding individuals and targeting American Muslims in the agency's counterterrorism investigations.
The Justice Department and the FBI have targeted American Muslims in "abusive" counterterrorism sting operations based on religious and ethnic identity, according to the new report from HRW and Columbia University Law School's Human Rights Institute. The study found that many of the over 500 terrorism-related cases since the War on Terror began in 2001 have alienated the communities that the government should rely on to prevent terrorism.
"This is a number that sounds really big, and it makes it sound like Americans are being kept safe from terrorism attacks," Andrea Prasow, deputy Washington director for HRW, said in a video released with the report. "But we found that in a lot of these cases, people were prosecuted who never would have committed a terrorist attack in the first place, if it weren't for the involvement of the FBI."
The 214-page report, Illusion of Justice: Human Rights Abuses in US Terrorism Prosecutions', focuses on 27 of those cases, including the Rezwan Ferdaus and the Newburgh Four cases, which RT has covered. HRW used some of RT's footage in its video.
"The theory behind some of these cases is that these people are terrorists-in-waiting: If the FBI hadn't shown up and taken them down the path of committing this terrorist act, Al-Qaeda would instead," Prasow said. "But we don't have evidence of that actually happening."
"What this means is that American Muslim communities are being treated as suspect, that law enforcement approach them not just as partners in countering terrorism or providing information about potential terrorist attacks, but as places where terrorism could be bred," Naureen Shah, former associate director of Columbia School of Law's Human Rights Institute, said in the video.
"These were not individuals who were planning on their own to actually conduct terrorist activities," Shah added. "They were individuals who were vulnerable to being recruited. They're young men - an 18-year-old, they're people with mental illness - schizophrenia, they're people who are susceptible because they want money and they could be bribed."
The HRW report echoed a similar report, released in June by the Muslim advocacy group SALAM, which found that 95 percent of terrorist arrests have been the result of FBI foiling its own entrapment plots.
According to that report, entitled 'Inventing Terrorists: The Lawfare of Preemptive Prosecution', the majority of arrests involved the unjust prosecution of targeted Muslim Americans.
"The informants in a lot of the cases that we looked at are people who were in trouble, and law enforcement gives them the option, 'Do you want to help us nab someone else, or do you yourself want to be put in prison?'" Shah said. "And so they need to find a terrorist. They need to turn these people."
"The idea that there is a terrorist group that would have found criminals so incompetent as these to become terrorists is ridiculous," Mike German, a former FBI undercover agent, said in an HBO documentary called 'The Newburgh Sting'.
The HRW report "accordingly stops short of drawing systemic conclusions," the Guardian reported. It found four high-profile terrorism court cases that it did not find any problems with: the 2013 Boston Marathon bombing; Najibullah Zazi's 2009 plot to bomb the New York subway; the attempted Times Square carbombing of 2010; and the 2002 shooting at Los Angeles International Airport's El Al counter.
"The report clearly shows in many respects, the American public is being sold a false bill of goods," Prasow said. "To be sure, the threat of terrorism is real. But in many of the cases we documented, there was no threat until the FBI showed up and helped turn people into terrorists."
The DOJ disputes the groups' findings.
"The Department of Justice has been a steadfast ally of our nation's civil rights groups for decades," said Marc Raimondi, a Justice Department spokesman, according the the Washington Post. "The report itself acknowledges that the legal process used in the cases it highlighted is not only lawful but is also specifically approved by federal judges... We do not and cannot target individuals solely for engaging in activities protected by the First Amendment, which includes free speech and religion."
You can share this story on social media: