​FedEx faces trial for drug trafficking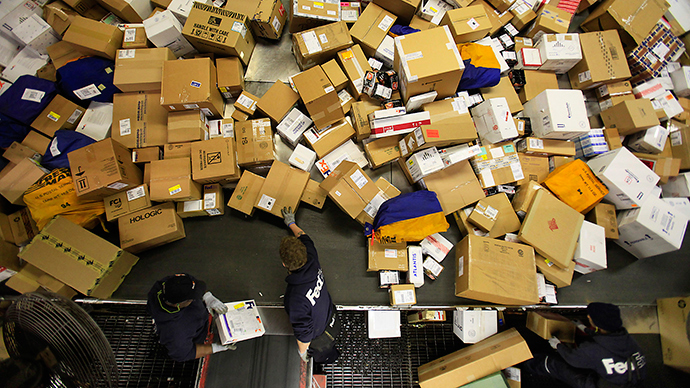 Shipping giant Federal Express has been indicted for drug trafficking for illegal online pharmacies and conspiracy to traffic controlled substances by the US Department of Justice.
"FedEx knew that it was delivering drugs to dealers and addicts," said the press release from the US Attorney's Office of the Northern District of California released on Thursday.

Among the 15 counts, the company stands charged with "conspiracies to traffic in controlled substances and misbranded prescription drugs for its role in distributing controlled substances and prescription drugs for illegal internet pharmacies," according to the statement.

It said that FedEx was aware that its services were being utilized by illegal drug companies and the transportation of such substances, and had been for more than a decade.

"From at least as early as 2004, DEA, FDA and members of Congress and their staff informed FedEx that illegal internet pharmacies were using its shipping services to distribute controlled substances and prescription drugs in violation of the Controlled Substances Act (CSA), Food, Drug and Cosmetic Act (FDCA), and numerous state laws," read the indictment.

Substances included Phendimetrazine (Schedule III); Ambien, Phentermine, Diazepam, and Alprazolam (Schedule IV) – all to "customers who had no legitimate need."

FedEx denied wrongdoing in a statement Thursday evening, with a spokesman saying that the company would be pleading not guilty to the charges.

"We will defend against this attack on the integrity and good name of FedEx and its employees," Patrick Fitzgerald, senior vice-president of marketing and communications, said in a statement.

He added that the company was a "transportation company – not law enforcement."

"We have repeatedly requested that the government provide us a list of online pharmacies engaging in illegal activity," he said.

"Whenever DEA provides us a list of pharmacies engaging in illegal activity, we will turn off shipping for those companies immediately. So far the government has declined to provide such a list."

In 2012, there were indications, however, that both FedEx Inc. and United Parcel Service Inc. (UPS) could be targeted as part of an 'expanding crackdown' against illegal prescription painkiller sales, according to a contemporary Wall Street Journal report.

FedEx called the investigation 'absurd and deeply disturbing', accusing the US government of attempting to delegate some form of law enforcement to delivery people.

The company is due to appear in court on July 29.