Hundreds of US cities set to protest 'invasion' of illegal migrants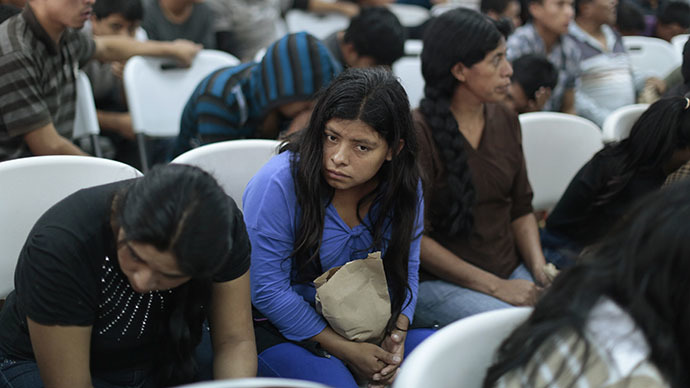 Nationwide protests aimed to plug the gaping hole in America's porous border with Mexico and stop the flow of illegal aliens - many of them unaccompanied children – amid mounting costs are scheduled for July 18-19.
As the United States wrangles with an estimated 57,000 unaccompanied children, mostly from Central America, who have been apprehended crossing the US border illegally since last October, the Obama administration has requested $3.7 billion in emergency funding to take care of the new arrivals. Many Americans, however, want the free ride in their communities to end.
Central American radio stations are playing anti-immigration songs paid for by the US government
A coalition of citizens groups are hoping to turn the tide on illegal migrants arriving to the United States from Central America in what has been called a National Day of Protesting Against Immigration Reform, Amnesty & Border Surge. The protest comes as activists from communities around the country have been turning back busload after busload of illegal immigrants.

According to William Gheen, president of the Americans for Legal Immigration PAC (ALIPAC), one of 11 sponsors of the protest, interest in the rallies is spreading across the country.

"Our goal is to unify Americans of all races, political parties and walks of life against the Obama-inspired illegal immigrant invasion," Gheen told WND news. "At last count we had 257 communities signed up, but that was two hours ago. We're expecting more than 300 and updating the event list every two hours."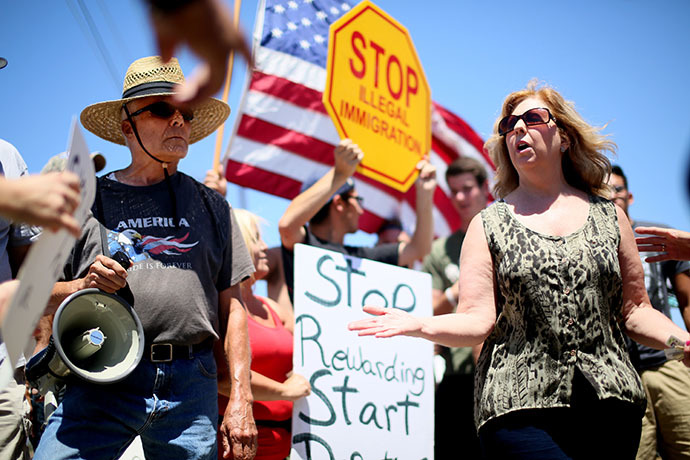 Protesters will gather around the country at state capitals, Mexican consulates, and at illegal detention centers that house the new arrivals. Gheen said he hopes the movement will counteract the recent surge of illegals at the US-Mexico border, as well as send a powerful message to US politicians that their jobs could be on the line if they continue to support the "invasion."

"We're hoping to get an American surge that will manifest in protests and the defeat of more Eric Cantor-type Republicans that still have GOP primaries and the Democrats in November that support Obama and his amnesty plans," Gheen told WND.

He said about 40 Republicans in the House, including Sen. Lamar Alexander, R-Tenn, "need to go," because they have betrayed their Republican roots by merely "playing the role" of traditional conservatives.

"What [the politicians] fear is when they know the next stop is the election booth and that's our message," Gheen said. We want everybody to support these protests but we want them to understand we need to get them involved in these elections and the defeat of many of Obama's amnesty allies."

Some US politicians already got the message.

Rep. Andy Harris of Maryland, for example, harshly criticized the federal government's plans to sneak illegal immigrant children into his home state, announcing last week that he would "use every tool at my disposal though the appropriations process to stop" illegals from being dumped in his state.

"These unaccompanied minors who have entered our nation illegally must not be brought to Carroll County, Maryland. Flying them to Maryland only to turn around and fly them back home is nonsensical," Harris said.
Each child migrant entering the US costs up to $1000 per day http://t.co/KwjCYkBw2Z

— Business Insider (@businessinsider) July 17, 2014
Meanwhile, radio host Rush Limbaugh stoked the fires of public passion by blaming the mainstream media for not covering the growing protest movement.

"Here's what you do not know," Limbaugh railed. "There are towns all over America standing up to this invasion, just like they did in Murrieta, California. You're not hearing about it, however, and I am here to tell you why you're not hearing about it. Westminster, Maryland, is a town standing up to it, just like Murrieta, California, did. Oracle, Arizona, is standing up to it.

"In Nebraska they're gonna stand up to it when they find out. The governor is fit to be tied," Limbaugh continued. "Upper Michigan, same thing. There are towns all over America standing up to this. There are protests happening, but they're not being covered."

James Neighbors, an Oklahoma City-based activist and founder of Overpasses for America, another sponsor of the protests, said many people become interested in the movement once they are informed of the whopping cost of hosting illegals.

"Really we just give them the facts, and in this case it happens to be amnesty and how it's going to cost over $60 billion to intake all of these illegal aliens and that's only the 11 million the government admits are here. That number is from 2004," Neighbors told World News Daily. "We're being invaded. That's why we're taking a strong stance on this because we're looking and seeing more than one out of every 10 in the whole country being here illegally."

Neighbors emphasized that this weekend's protests will be peaceful.

"We don't engage in violence, we simply exercise our First Amendment rights and educate the public with our protests," he said. "We really look at it as a bypassing of the media. The ratings of the mainstream media are at an all-time low but you can't ignore people out on an overpass; it sticks in your mind."
Welcome to the Hotel California – all expenses paid!
At the same time that congressional leaders slash public spending amid record debt levels, many Americans were stunned when they discovered the authorities are spending $250 to $1,000 per day to care for each child caught crossing the US border.

"One of the figures that sticks in everybody's mind is we're paying about $250 to $1,000 per child," Senator Jeff Flake told reporters, following a closed-door briefing by Homeland Security Secretary Jeh Johnson.

About half of Obama's emergency request of $3.8 billion would be allocated to the Department of Health and Human Services to address the needs of the arrivals.


Senator Dianne Feinstein, Democrat from California, compared Mexican children being turned back at the border to the "boatloads of Jewish immigrants trying to come to this country during Nazi Germany and getting turned back." The Senator didn't flinch when she told legislators the cost of sustaining the arrivals, which came out to be at least "$250 per day, including other services," Feinstein said, without providing details.

"It goes up to $1,000 per day if you have to contract temporarily," she added. "That's what they're trying to avoid."

US authorities expect some 30,000 more unaccompanied children to cross the border by the end of September, and that 145,000 will be apprehended next year. Yet many are wondering why the government is willing to pay billions to allow illegal immigrants to remain in the country, while homeless people receive no assistance.

Homeless activist Ted Hayes, who has lived in LA for 30 years, is upset over LA Mayor Eric Garcetti's willingness to provide shelter for thousands of illegal immigrants while there are thousands of American kids living on the street who, he believes, deserve help first.

"It's kind of a slap in the face to US citizens," Hayes told CBS News. "It's embarrassing. It's hurtful. Because it's like a father saying that he loves children outside of the family more than he loves his own."

"We feel for them," Hayes continued. "We feel their pain. But we are feeling pain of our own children first."

LA protesters point to recent events in Escondido, California, a suburb of San Diego, where residents successfully fought against a proposal to turn a closed nursing facility into a shelter to house illegal aliens.
You can share this story on social media: