Record number of undocumented minors entering US - report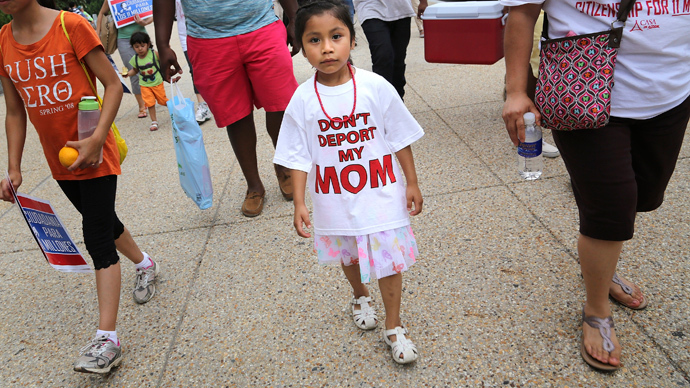 Tens of thousands of undocumented immigrants under the age of 18 cross into the United States alone every year, a growing number that puts extra pressure on American lawmakers searching for an answer on how to reform immigration policy.
The US Conference of Catholic Bishops released a report Tuesday estimating that 60,000 minors will enter the US from Central America without adult supervision by the end of 2014. The fact that less than 25,000 unaccompanied minors traveled into the US in 2013 and under 6,000 in 2004 is a stark reminder of the violence throughout Mexico and elsewhere in Central America that seems to be behind the swell in arrivals to the US.
The Bishops group study, first obtained by the Wall Street Journal, cited a massive uptick in the number of stops at the US-Mexico border, which "has seen an unprecedented increase in the number of unaccompanied migrating children" since 2011.
The majority of the unaccompanied children (UACs) are released from the border patrol and into the arms of relatives or friends already in the US. Their cases are handled by a number of government agencies and, if an individual child is not lost in the mix, they are often placed in the care of the Department of Health and Human Services' (HHS) Office of Refugee Resettlement division.
"Generalized violence at the state and local levels and a corresponding breakdown of the rule of law have threatened citizen security and created a culture of fear and hopelessness," the report states.
A vast number, 95 percent, come from Honduras, Guatemala, and El Salvador – three nations plagued by organized crime, drug trafficking, and widespread corruption. Kevin Appleby, director of migration policy and public affairs for the bishops group and an author of the report, told the Wall Street Journal that while the mass flow has created problems, the young refugees also represent a significantly different type of migrant to the US.
"These children defy common perception of migration in this hemisphere," he said. "They are akin to refugees in Africa fleeing civil wars. They are literally fleeing for their lives."
The report's publication came on the same day that Republican lawmakers in the US House of Representatives debated a number of immigration reforms that would give citizenship to children whose parents brought them into America illegally and also stop the deportation of adults.
Republican leaders distributed a series of so-called principles for lower-ranked leaders to consider. Conditions an undocumented immigrant include a "rigorous" background check, "significant" back taxes, commitment to learn English, and ability to prove they can support themselves without government aid--and they must also be "willing to admit their culpability" by registering with the federal government, reports USA Today.
"I believe these standards represent a fair, principled way for us to solve this issue, beginning with securing our borders and enforcing our laws," House Speaker John Boehner (R-Ohio) said during the meeting. "We will address this issue in a step-by-step, common sense fashion that starts with securing our nation's borders and enforcing our nation's laws."
Still, sources told the New York Times that the closed-door meeting was "very passionate" and a "sizable bloc" of Republicans spoke out against Boehner and other top officials.
"It's time to deal with it, but how you deal with it is critically important," Boehner said. "It's one thing to pass a law. It's another thing to have the confidence of the American people behind that law."
While lawmakers squabble over which reforms should be introduced, unaccompanied children will still be making their way up through Central America and into the US. One young man, identified only as Juan Cordoba, told WBEZ Chicago public radio that he had no choice but to flee and try to make a new life in the US.
"As we all know, Honduras has a lot of corruption problems, there's a lot of violence, there's not a lot of opportunities, and so as young people, we graduate and then you have no options, there's no jobs available, there's nothing," he said.
The 17-year-old said it took him two months to make his way from Honduras and then across Mexico, but was disappointed when he approached US Border Patrol agents.
"It was really bad. They don't treat you nice," he said. "They don't treat you like a human, they treat you like an animal. It was just not good."
You can share this story on social media: