Texas town goes head-to-head against energy groups over fracking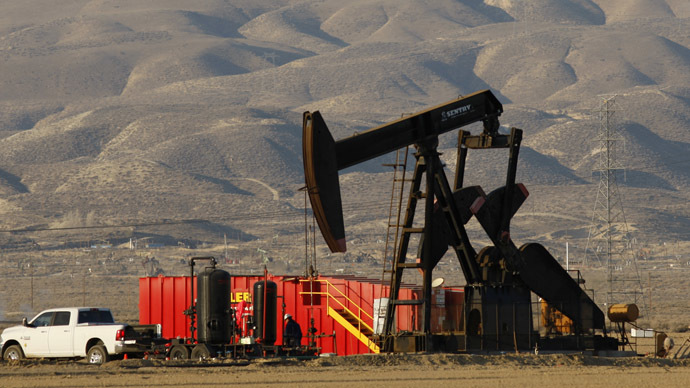 The small city of Denton, Texas, which sits on a huge natural gas reserve, lost a bid to halt fracking after many hours of public testimony. The oil and gas companies are now threatening litigation if a ban goes into effect.
A citizens' movement to ban fracking – a mining process, also known as hydraulic fracturing, that involves blasting a mix of water, sand and chemicals into underground rock formations to release oil and gas - suffered a setback on Wednesday when Denton City Council members voted down the petition 5-2.
11 earthquakes hit fracking-heavy central Oklahoma
The debate stirred up powerful emotions in this picturesque city of 113,383 people, posed as it is between powerful energy companies on one side, and citizens groups and neighborhoods on the other.
An estimated 500 people on Tuesday assembled at Denton City Hall, which was forced to use a city building across the street to handle the large number of people. More than 100 people registered to give oral testimony during the public hearing before the vote.
Fracking enthusiasts decried the proposed ban, saying it will cost the city both revenue and jobs - $251.4 million and over 2,000 jobs over the next 10 years, according to a study commissioned by the Fort Worth Chamber of Commerce.
Tom Phillips, a former chief justice of the Texas Supreme Court, representing the influential Texas Oil and Gas Association, said some members would "undoubtedly sue" in the event the anti-fracking coalition votes in favor of a ban, AP reported.
Opponents of fracking said the technique presents grave risks to human health and the environment that cancel out any economic benefits. They also argued that an outright ban was a last resort after the industry refused to heed rules and standards.
"If the industry had approached anything near reasonableness" in accepting the rules, activists would not have demanded an outright ban on fracking, Sharon Wilson of the environmental nonprofit Earthworks, was quoted by AP as saying.
I really hope #Denton representatives will take care of this and #passtheban@frackfreedenton thank you for your amazing dedication to this

— Katy Reynolds (@thekatyreynolds) July 16, 2014
City leaders introduced a temporary ban on new fracking permits in May after anti-fracking citizen groups delivered a petition containing the 2,000 signatures necessary to move the debate forward.
The temporary ban imposed by City Hall is due to expire in September.
Denton City Council member Kevon Roden said fracking prevents Denton from becoming a healthy, ecologically clean city that can thrive on other means of business.
This speaker hit the nail on the head. People getting paid to fight with concerned citizens is the most frustrating part of #dentonban forum

— Heather Quinn (@Heatherkquinn) July 16, 2014
"If we stop fracking tomorrow, our economy is not going to implode," Roden told reporters.
But organizers of the citizen-led petition, which garnered about 1,900 voter signatures, forcing the council to Wednesday's vote, said they proposed the ban as a last resort after fracking operators defied city rules, particularly ones governing setbacks and flaring.
The proposal will next move to a public ballot in November.
You can share this story on social media: