Anti-immigration protesters in Michigan decry plans to house undocumented minors
Published time: 16 Jul, 2014 03:39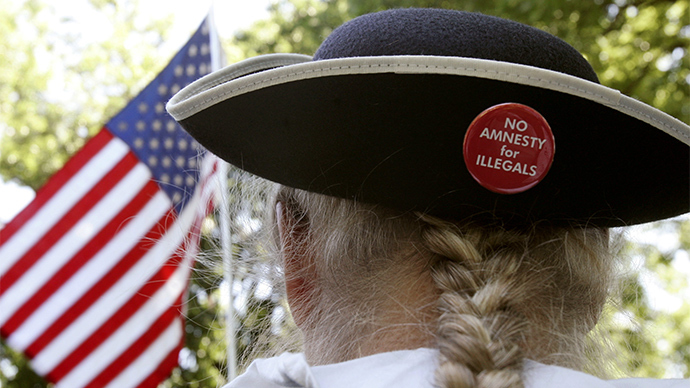 Protesters from all over Michigan gathered in the city of Vassar on Monday in order to voice their opposition to a government proposal to house undocumented minors from Central America in the area.
The protest took place near Vassar City Hall and included more than 50 people – some of which were brandishing AR-15 rifles and handguns. Other participants sported signs that featured slogans such as, "Don't Tread on Me," and, "Stop Taxpayer Funded Invasion."
According to MLive.com, the strong response came after it was revealed that a local social service organization, Wolverine Human Services, is working on teaming up with the anti-poverty group Heartland Alliance in Chicago to offer temporary shelter for 12- to 17-year-old male immigrants from Honduras, Guatemala, and El Salvador.
The shelters would be used to house minors who've entered the United States illegally for up to four weeks. During this time, the children would be treated with immunizations and offered education, and after their stay they would be delivered to relatives and continue moving through the immigration process, which would likely result in deportation.
#Michigan: Protesters carry AR rifles in march against Central American teens coming to Vassar http://t.co/c3lUNCRG4ppic.twitter.com/3TmmWu8ZFL

— Rachael P (@plussone) July 15, 2014
As RT has reported in the past, the United States has experienced a surge in undocumented minors flooding into the country through the Mexican border. Almost 60,000 children have crossed the border illegally since October, leaving states and the federal government scrambling for ways to deal with the situation. The program normally responsibility for caring for undocumented minors, operated by the Department of Health and Human Services, is set up to handle a fraction of that number.
Although the government said any immigrants placed in Vassar would not be affiliated with criminals or be criminals themselves, Tamyra Murray of the Michiganders for Immigration Control and Enforcement, who helped organize the protest, remains unconvinced. She claims that not only are some of the minors gang members and are working as drug runners for cartels, but also that others are coughing up blood and battling tuberculosis.
"We're not against kids," Murray said to MLive. "We have sympathy for the kids being used and exploited by the feds."
Incredible photo of protesters outside informational meeting in Vassar, MI on possible housing of refugee children pic.twitter.com/nH0093dDFN

— Joshua Pugh (@JPughMI) July 10, 2014
Some protesters, like Millington resident Scott Freeman, carried a flag calling for a second American revolution. Rochester resident Jeff McQueen, meanwhile, said President Obama is downplaying the issue.
"Not in my backyard," he told the news outlet. "These kids are here illegally. Obama has ignored us … He's calling illegal immigrants undocumented immigrants. It's like calling drug dealers undocumented pharmacists."
Criticism over the Vassar facility was also voiced by US Rep. Candice Miller (R-Mich.), who wrote a letter to the Department of Health and Human Services on Friday calling the proposal "deeply troubling." She also suggested the government is looking at "several cities" in Michigan for housing.
TodayJuly 14 Protesting importing of illegal's Vassar, MI Out front City Hall pic.twitter.com/GdiXcLbsRu

— Michael Mikolajczak (@capactownhall) July 14, 2014
In a separate letter on July 3, Miller blamed the border situation on the Obama administration's policies, calling for the minors to be removed from the US as soon as possible.
"It is imperative that the people being apprehended at the border not be released from custody because if they are, it is very unlikely they will ever return for immigration hearings on their status, and they will disappear into society," she wrote. "In order to send the message to Central America and Mexico that our border has meaning, we must send these people back to the nations they came from, and we must do it immediately. If this requires changes to federal law, then we must immediately get about the work of changing the law."
While people in Michigan protested on Monday, a similar demonstration was held Tuesday in Oracle, Arizona. According to the Associated Press, anti-immigration advocates faced off against pro-immigration supporters after a local sheriff informed them a bus filled with Central American children was entering the area.
TodayJuly 14 Protesting importing of illegal's Vassar, MI Out front City Hall pic.twitter.com/XhbuIUzTUw

— Michael Mikolajczak (@capactownhall) July 14, 2014