Feds plan to turn Texas warehouse into massive immigration processing center for kids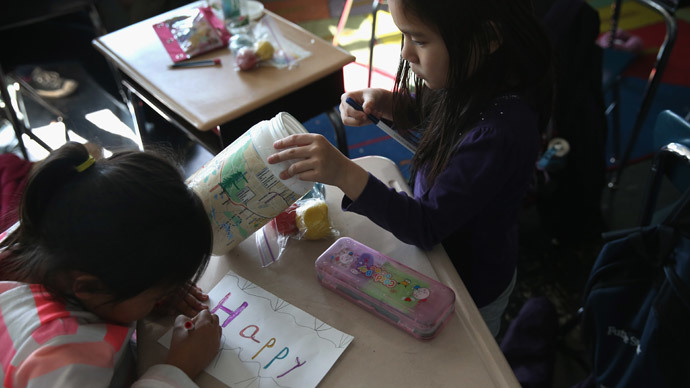 As the United States struggles to deal with a huge wave of undocumented minors, the government is currently planning to convert an empty, 55,000-square foot warehouse into an immigration processing center.
The news was first reported by the Associated Press, which uncovered the relevant construction permits after filing public records request with the government on Monday.
The facility, located in McAllen, Texas, would be composed of "four fence-enclosed pods inside a corrugated steel warehouse," and would be able to house up to 1,000 children as their cases go through the required immigration procedures.
"Minors will be staged here until processing is completed and then they (will be) moved to a different location," reads a fire protection engineering analysis drafted by the US General Services Administration (GSA).
Located about one mile away from the Rio Grande Valley border patrol station – where tens of thousands of undocumented children have poured over the Mexican border and into the US – the renovated building would feature a play area surrounded by cells sporting unsecured doors for the children, according to the AP.
When the building would be ready remains a question mark, though a one-year lease has already been signed by the GSA.
The renovation of this warehouse marks the latest effort by the Obama administration to deal with more than 52,000 children – primarily from El Salvador, Guatemala and Honduras – who have entered the US illegally since October. About 1,000 are already being held in a makeshift warehouse in Arizona, but immigration officials have found the influx to be too large to effectively manage with their current resources.
As RT reported earlier this month, the White House has already designated a third military base to house some of the children. It will initially hold about 600 minors before increasing it capacity to 1,200. Once in US custody, the minors are treated with vaccinations and go through other checkpoints before being transferred to shelters elsewhere.
The government's lack of resources has come under scrutiny by immigrant advocates, however. Children in the Arizona facility have reportedly complained that they've grown sick from the food provided to them, and that a shortage of proper medical supplies has made living conditions difficult. One rabies outbreak has already been reported in Rio Grande Valley, where there's concern other infections could also spread.
Although many of the children have reportedly fled their native countries to escape violence or reunite with family members already in the US, President Obama recently stated that undocumented minors will not be permitted to stay in the country. In response to the flood of incoming minors, Vice President Joe Biden traveled to Guatemala to emphasize that it is unsafe to place these children in the care of those conducting illegal border crossings.
The sentiment was echoed by Homeland Security Secretary Jeh Johnson in a letter to Central American parents.
"The criminal smuggling networks that you pay to deliver your child to the United States have no regard for his or her safety and well-being - to them, your child is a commodity to be exchanged for a payment," Johnson wrote, according to the AP.
In a memo penned by Border Patrol Deputy Chief Ronald Vitiello, up to 90,000 undocumented minors could try to enter the US this year.