Candy from strangers: KKK recruiting with sweets and white power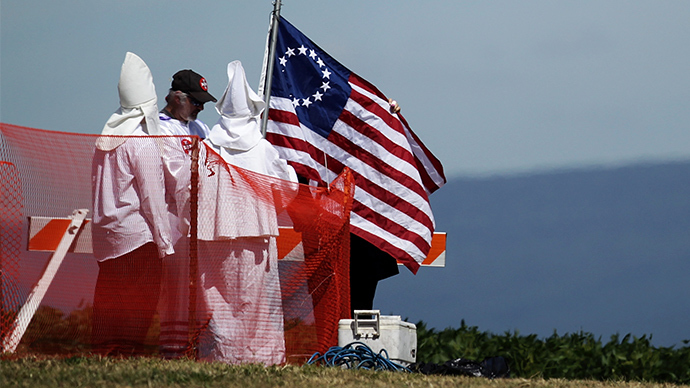 The Ku Klux Klan is recruiting in South Carolina, leaving bags of candy and anti-immigration literature in people's driveways during the group's 'national night ride', its triannual membership drive.
Residents in a Seneca subdivision, a town of just over 8,000 in the northwest corner of the state, woke up Sunday morning to find bags of candy labelled, "Save our land, join the Klan." The flier also included the number of the "Klan Hotline," WHNS reported.
The voicemail at the number listed with the candy says, "Be a man join the Klan! Illegal immigration is destroying America," discusses immigration concerns and ends with, "always remember if it ain't white, it ain't right. White power."
One woman and her family found the candy when they ran it over on their way to church. She said it shocked her and made her angry.
"[I] talked to several neighbors. They were very angry, very upset, very ashamed at the same time - that this exists," the woman, who did not wish to be identified, said to WHNS. "Ashamed to face our neighbors that do not have the same color skin that we do."
Robert Jones, the Imperial Klaliff (equivalent of vice president) of the the Loyal White Knights chapter of the KKK, said the literature drop was part of the national night ride, an overnight recruitment event that happens three times a year. He said the group does not target particular houses during the campaign.
"I mean, we can't tell who lives in a house, whether they're black, white, Mexican, gay, we can't tell that," Jones said. "And if you were to look at somebody's house like that, that means you'd be pretty much a racist."
The Seneca woman noted the bags were on every driveway, including those belonging to families of mixed-race marriages and minorities. She said she and her neighbors feel like they are being watched now.
According to Jones, the Loyal White Knights are receiving 20,000 phone calls a day to its hotline. The group has about 8,000 members, which is the typical size for a chapter. They are also recruiting in Harnett County, North Carolina, WTVD reported.
"It's ridiculous that this is still going on... how somebody or a group of somebodies could have that much hate in their heart to recruit individuals," Lila, a Harnett County resident who did not want her last name revealed, told the ABC affiliate. "That trash isn't welcome here."
The Imperial Klaliff disputed the KKK's hate group label, saying it is a civil organization following the Bible. The group is currently protesting illegal immigration.
"We're wanting to see equal rights for whites. We're getting out into the streets and protesting because we're feeling our country's being took away from us," Jones said.
The chapter's Imperial Wizard (or president) Chris Barker agreed. "If they (blacks) would actually listen to what we're talking about, it ain't about them anymore with the Klan. It's usually about the immigrants who are flooding (the United States)," he told WTVD.
Mark Potok, senior fellow with the Southern Poverty Law Center, told The Tennessean that similar activities have occurred throughout the country of late, with candy distribution in Florida. Alabama, Pennsylvania, Tennessee and Virginia have also seen recruitment drives in recent months.
"It's always concerning to hear about these activities, but this does not signal a resurgence in the Klan," Potok said
Recipients of the candy-and-literature drop should not be fearful of the Klan unless they are doing something morally wrong, Jones said.
The Seneca woman didn't find comfort in his remarks. "You shouldn't have to wake up and fear that somebody might burn a cross in your yard or throw something like this out in your driveway with nothing but hurt in their intention," she said.
The group is planning a public protest in August in North Carolina that will include a cross-burning, WHNS reported. And Jones promises more recruitment with candy.
You can share this story on social media: