Obama library toilet parade float prompts Justice Department investigation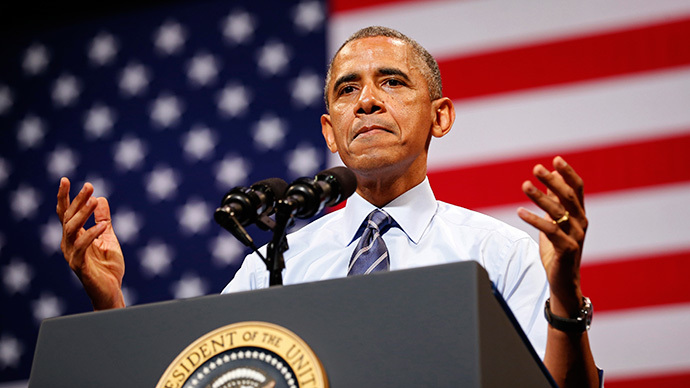 Justice Department officials are investigating a controversial float that took part in a Fourth of July parade in Norfolk, Nebraska. It depicted President Obama's future presidential library – a building to commemorate his legacy – as an outhouse.
Hitched to the back of a blue pickup truck, the float featured an outhouse with the words "Obama Presidential Library" nailed into the sides. On top were four small American flags, while the front of the outhouse sported a dummy wearing overalls with its hands placed against its head. Thanks to the greenish skin of the figure and dark, almost purple-like circles around the dummy's eyes, it looked much more like a zombie than anything else.
The float's creator, veteran H. Dale Remmich, told KTIV that he did not intend any disrespect to the president.
"It's me. I've got on my bibs. Yes, I've got my walker. I'm turning green and some say I look like a zombie. But I am not a hate-monger and I'm not a racist," he said.
He said he was making a statement about two Obama administration scandals: wait times and other issues within the Department of Veteran's Affairs and the government's handling of the Benghazi consulate attack in 2012.
"I have three very close friends that are under VA care, or lack there of it, right now," Remmich said. "I tried to use political satire as best I could, but to be honest with you it's mostly political disgust, simply no more or no less."
But not everyone understood or appreciated Remmich's attempt at satire.
"Looking at the float, that message absolutely did not come through," Betty C. Andrews, president of NAACP branches in Iowa and Nebraska, told the Omaha World-Herald.
The Lincoln Journal Star editorial board called the float "crude, disgusting, indecent and open to an interpretation that it was bigoted," in an op-ed. "It had no business being in a parade celebrating our nation's heritage."
"I'm ashamed, I'm appalled," Norfolk resident Glory Kathurima said to the Journal Star. "You see people laughing and pointing at it, smiling, looking positive about it. I immediately felt sick to my stomach...I knew what that meant, and I knew there was no sort of political statement being made by an image like that."
Kathurima had moved to Nebraska from Kenya, but said that explaining the float to her young daughter proved difficult.
"My daughter keeps asking me, 'Why?' and I don't have an answer for her," she said. "We made this place our home, but right now it doesn't feel like it. It's shameful."
On Thursday, Norfolk Mayor Sue Fuchtman met with a member of the DOJ's Community Relations Service team, which gets involved in discrimination disputes, and four representatives of the NAACP. Members of the Independent Order of Odd Fellows, who organized the parade, were also in attendance.
Andrews was one of the NAACP members present at the meeting. "We wanted to make sure that the Odd Fellows and the Mayor were able to hear those concerns, and also look at what we can do to improve those perceptions," she said to KTIV.
City Administrator Shane Weidner also attended. He said the meeting was a positive one that served more as a listening session for him
"We listened to their recommendations and realized that we have folks that are feeling underrepresented in our community," Weidner told the Journal Star. "It was a wake-up call."
The Odd Fellows has said it will consider adding more diversity to its committee, as well as reevaluate it policies for what is allowed in the parade going forward.
Fuchtman issued a statement on behalf of the city, stating, "We are disappointed that the occasion of this family-friendly celebration of America's birth was used in a way that disparages the office of the president. As an open inclusive city, we have a responsibility to foster an environment of free exchange, but also one of civility, courtesy and decency."