Crash landing: 3 new Boeings stuck on Montana riverbank after train derails
Published time: 7 Jul, 2014 10:48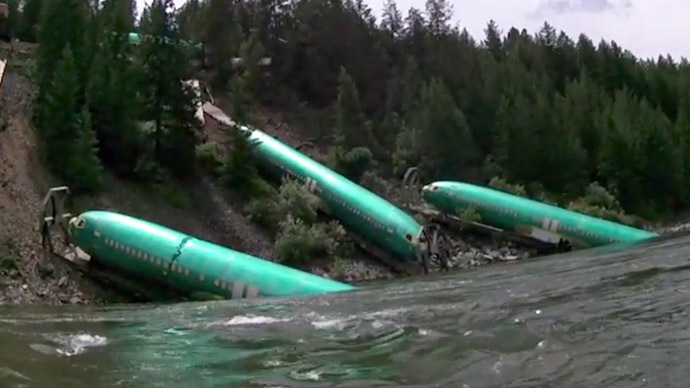 Rescue workers in Montana are facing an unusual conundrum: how to remove three airplane fuselages from a steep riverbank. The task is already proving difficult, due to the remote location and trying to get such large objects up a steep bank.
A crew of 50 are working alongside eight heavy equipment machines, to try and salvage the three green painted fuselages, which fell into the Clark Fork River, not far from Rivulet, Montana. Two are partly submerged in the water, while one is resting on the riverbank. With the Boeing 737-800 model being around 40 meters in length, salvaging them from their current predicament is likely to prove a tough task.
"The progress is going extremely slow," said Lynda Frost, a spokeswomen for Montana Rail Link. "If we get one up today, it would appear it will take one day each to get them out."
A train carrying parts manufactured by Wichita's Spirt Aerosystems was en route to Boeing's final assembly plant in Washington State before it derailed about 18 miles east of Superior. The incident happened Thursday.
Young Boeings crawl out of the river for the first time. One is not sure he wants to and tries to return. pic.twitter.com/zlTKN47VFx"

— Allister Jenks (@zkarj) July 5, 2014
No one was hurt when 19 cars on the train heading westbound derailed. The train was carrying six Boeing 737 fuselages. Three fell down the steep bank into the river. The other three also fell off, but managed to stay on land.
The discovery of the planes has proved popular with the tourists. The Clark Fork River is popular with rafters. Jon Saku was going on his first ever trip onto the water and he got more than he bargained for.
"It was like something straight out of a movie," Saku told NBC Montana. "We're spinning around and next thing we hear Jason saying, 'Oh man, look at that!' and you know, there's three of the fuselages just sitting in the water."
"@KTVQ: Ever go rafting and see some Boeings? Incredible pictures here: http://t.co/SpsP17TleApic.twitter.com/0F8ayKfaEh" new certification?

— borsum1 (@borsum1) July 5, 2014
With rescue workers still trying to figure out how to move the three fuselages, the planes could become a significant temporary landmark and help to increase tourism to a sleepy but beautiful part of the country.