US Navy promotes first woman to 4-star admiral in 238 year history
Published time: 2 Jul, 2014 09:45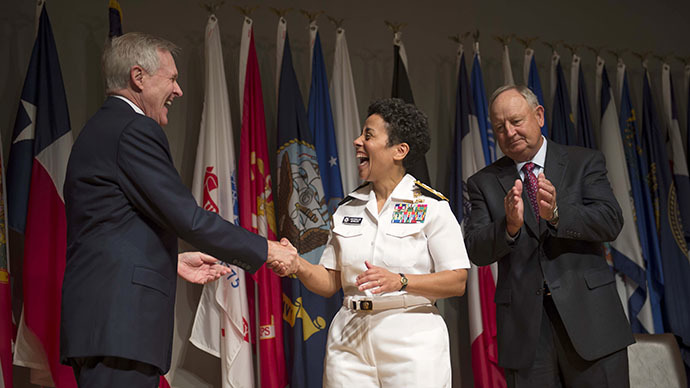 The US Navy has pinned a woman with a fourth star for the first time in over two centuries of the naval warfare service.
Michelle Howard, 54, was promoted during a ceremony at the Women in Military Service for America Memorial at Arlington National Cemetery on Tuesday. She will serve as the vice chief of naval operations, the Navy Times reported.
She will relieve Admiral Mark Ferguson, who is taking over as commander of Naval Forces Europe-Africa and Allied Joint Forces Command in Naples, Italy.
"If you don't believe today was a first, when I called to order four-star shoulder boards for women, they didn't exist,"Howard said during the ceremony. "You folks are seeing the first set in the United States Navy."
Howard noted that the biggest change to have come to the Navy involves the opportunities that are now open to women which did not exist when she first joined.
"Now I think about it all these years later, the combat exclusion law was repealed and women can serve on all classes of ships, all types of aircraft. And then the last couple of years, opening up the submarines to women — it's significant."
Since 1993, women have been allowed to serve on warships and fly fighter jets. In October, the US Navy announced the fast attack submarines USS Virginia and USS Minnesota would be the first two Virginia-class submarines to integrate female officers.
Women account for 16.4 percent of those serving in the Navy accounting to a Pentagon report, but constituted 25 percent of this year's graduating class at the Naval Academy.
Howard graduated from the Naval Academy in 1982, a time when Annapolis saw far fewer female candidates. Since that time, she has been a trailblazer for much of her career. The surface warfare officer was the first black woman to command a ship – the dock landing ship Rushmore in 1999. She would later go on to command Amphibious Squadron 7 and later Expeditionary Strike Group 2.
Just days after she took charge of the counter-piracy Combined Task Force 151 in 2009, Somali pirates hijacked the cargo ship Maersk Alabama, the first successful pirate seizure of a ship registered under the American flag since the early 19th century. Howard's voice was depicted in 'Captain Phillips' — a 2013 film dramatizing the crisis — when she speaks over the radiotelephone to the commanding officer of the destroyer Bainbridge, Military Times reported. Howard attended a Washington, DC, screening of the film.
However, the Navy isn't the first branch of the military to issue a woman with a fourth star in the history of the US uniformed services.
Army General Ann Dunwoody is the first woman in US military and uniformed service history to achieve a four-star officer rank.
And in February 2012, US President Barack Obama nominated Janet Wolfenbarger to become the first woman four-star general for the Air Force.