Twister on CCTV: Wisconsin gas station's direct hit from tornado (VIDEO)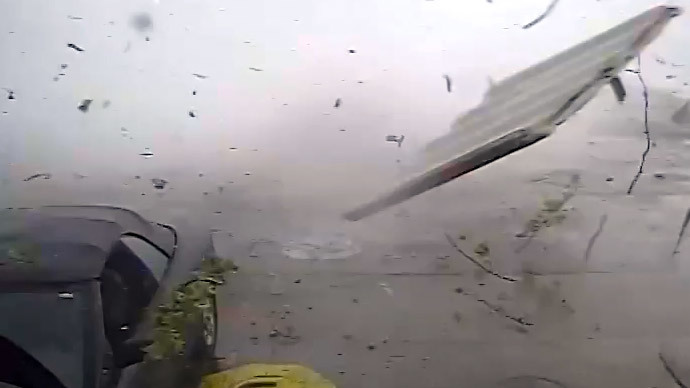 The chilling moment a tornado hit a gas station in Colfax, Wisconsin, has been posted online as the state recovers from a weekend storm. A CCTV camera caught a car avoiding flying debris as a tornado struck in a matter of a few seconds.
Luckily, the vehicle avoided damage and people in it were not hurt – escaping the tragedy by mere seconds.
As the truck makes a U-turn and leaves the gas station, wind gusts bring debris and tree branches as the tornado strikes. It just 30 seconds as a powerful rotation suddenly comes into view, hitting parked cars.
The surveillance camera footage was caught last Friday as the tornado was getting closer to Colfax. The twister went through Colfax around 3:15pm. The National Weather Service said the tornado was a weak EF1 category with wind speeds of 85 to 90 miles per hour (137-145 kmh). The tornado reached 100 yards wide at its widest and lasted about five minutes.
Despite being described as weak, the brief twister downed trees in the area and caused damage to a local elementary and middle school along with the gas station.
Neighbors got together on Saturday to clean up the debris left behind, local media outlet WEAU reported.
Colfax saw a deadly tornado back in 1958, when a storm killed about 12 people there and 30 people in western Wisconsin.