Rare double tornado rip through Nebraska: 5-yo dead, 19 injured (PHOTOS, VIDEO)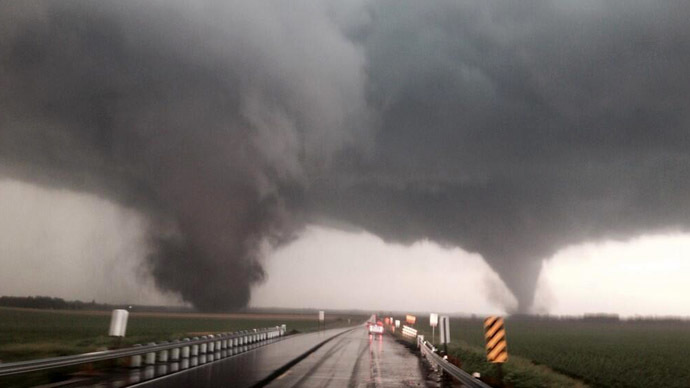 Several tornadoes tore through northeast Nebraska on Monday, leaving one child dead and 19 injured and a path of destruction in its wake as governor declares a state of emergency.
The National Weather Service confirmed a storm carried at least two tornadoes – touching down about one mile apart – through the town of Pilger and surrounding areas.
Victims were transported to three regional hospitals, and at least one person had died from unspecified injuries, hospital officials said. The Stanton County Sheriff's Office confirmed late Monday that the person killed was a 5-year-old child. The identity of the child and its gender has not been made public.
Nebraska Gov. Dave Heineman has declared an emergency for the area, according to spokeswoman Sue Roush. The order allows the governor to send in the Nebraska National Guard, which is reportedly on standby.
The damage caused around Pilger, a town of about 380 people, and surrounding rural areas is said to be extensive. One of the tornadoes in the area lifted off the ground many times before touching down again, The World-Herald reported
MAJOR damage here in Pilger, Nebraska need emergency personnel NOW!! pic.twitter.com/rF6SpxBd36

— Reed Timmer (@reedtimmerTVN) June 16, 2014
Tornado crossing 275 east of Pilger, Nebraska earlier. pic.twitter.com/uxYBNieBpH

— Jerry Funfsinn (@StealthChaser) June 17, 2014
The Nebraska State Patrol has closed off access to Pilger, according to KMTV.
Pilger, NE #Tornado Before & After from @Bmendlik & @Google Streetview pic.twitter.com/POteMMcBZT

— EricSorensen (@ERICSORENSEN) June 17, 2014
#pilgerpic.twitter.com/5WEYirSZjo

— Bryan Mendlik (@Bmendlik) June 16, 2014
#pilger#tornadopic.twitter.com/x8f25nGaSa

— Bryan Mendlik (@Bmendlik) June 16, 2014
In addition to Pilger, damage was reported in Stanton and Wisner, Roush said, though no tornado actually hit Stanton.
There have been later reports of a tornado in the area of Burwell, Nebraska.
Tornado reported to be on the ground east of @Burwell@6:52 #newx@NWSHastings@NWSNorthPlattepic.twitter.com/yCWOPvz5XG

— Scott Philbrick (@Scottphilbrick) June 16, 2014
You can share this story on social media: