White House requests $500 million to aid Syrian rebels
The White House on Thursday asked Congress for half-a-billion dollars in aid to go towards opposition fighters in Syria at war with the regime of recently re-elected President Bashar Al-Assad.
Meanwhile, US Defense Secretary Chuck Hagel has ordered the Pentagon to develop more detailed plans to train and equip moderate Syrian rebels, should Congress approve the requested funding.
In a report sent to lawmakers at the Capitol on Thursday, the White House requested $500 million in aid to "help defend the Syrian people, stabilize areas under opposition control and facilitate the provision of essential services, counter terrorist threats and promote conditions for a negotiated settlement."
The Associated Press reported that the multimillion dollar request makes up just a fraction of a larger, $65.8 billion overseas operations request sent to Congress that, if approved, would fund a number of Pentagon and State Department programs, as well as $1 billion in assistance to nations adjacent to Syria.
Russian Permanent Representative to the United Nations Vitaly Churkin called the request a step in the wrong direction, adding that the White House is only trying to add more fuel to the fire instead of seeking a political solution when it comes to the Syrian conflict.
Churkin added that the money could be spent on something more useful. The comments were made during a UN press conference.
This latest request by the administration for aid comes merely weeks after the president outlined his foreign policy objectives during a speech last month at the West Point Military Academy graduation ceremony.
"As president, I made a decision that we should not put American troops into the middle of this increasingly sectarian civil war, and I believe that is the right decision. But that does not mean we shouldn't help the Syrian people stand up against a dictator who bombs and starves his own people," Obama said. "And in helping those who fight for the right of all Syrians to choose their own future, we are also pushing back against the growing number of extremists who find safe haven in the chaos."
"So with the additional resources I'm announcing today, we will step up our efforts to support Syria's neighbors — Jordan and Lebanon, Turkey and Iraq — as they contend with refugees and confront terrorists working across Syria's borders."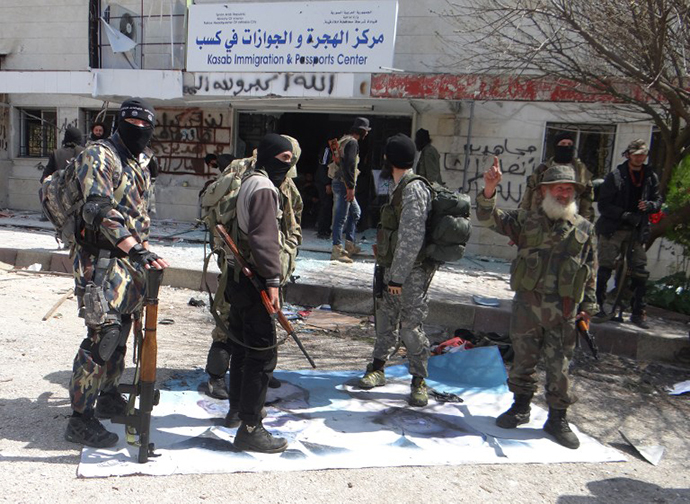 At the time, Obama added that he would "work with Congress to ramp up support for those in the Syrian opposition who offer the best alternative to terrorists and brutal dictators." Now only weeks later, he appears to have taken the first steps to securing such funding.
Since nearly the start of the Syrian civil war more than three years ago, hawkish Republicans in Congress have urged the White House to take action against Assad, with Sen. John McCain (R-Arizona) going as far as to travel abroad to meet with rebel fighters overseas. Others have condemned any response from Washington altogether, though, including Sen. Rand Paul (R-Kentucky), who this week attributed the arming of fighters in Iraq as the impetus for a "jihadist wonderland" there created on Uncle Sam's watch and dime.
But Brian Becker, national coordinator for the anti-war ANSWER Coalition, says the US government is playing both sides with its actions in Syria and Iraq counteracting each other.
"The United States appears to have a schizophrenic foreign policy," Becker said in an interview with RT. "They're saying they demand unity in Iraq behind the central government, which is fighting what they call Islamic extremists from ISIL or ISIS, and yet, at the same time, they're funding these same armed groups in Syria to take down an independent, nationalist and sovereign government in Syria."
According to the AP's Julie Pace, White House officials said the Obama administration would work with members of Congress and regional player to come to terms with what sort of training and assistance in particular would be provided to opposition fighters by the US.
"One potential option," Pace wrote, "would be to base US personnel in Jordan and conduct the training exercise there."
Becker believes that US personnel in Jordan being coordinated by the CIA, which is "funding and fueling a civil war using proxy forces."
"What the US is doing and has been doing is funneling money, guns and more occupation tools in a region that it considers to be vital because it's resource-rich," Becker added. "That's about it."
Last month, the Pentagon deployed more than 6,000 Marines to Jordan to conduct drills alongside military officials there.
You can share this story on social media: