Toddler tries to defend mother from violent attack (WARNING: GRAPHIC VIDEO)
Published time: 26 Jun, 2014 19:42
Edited time: 26 Jun, 2014 19:56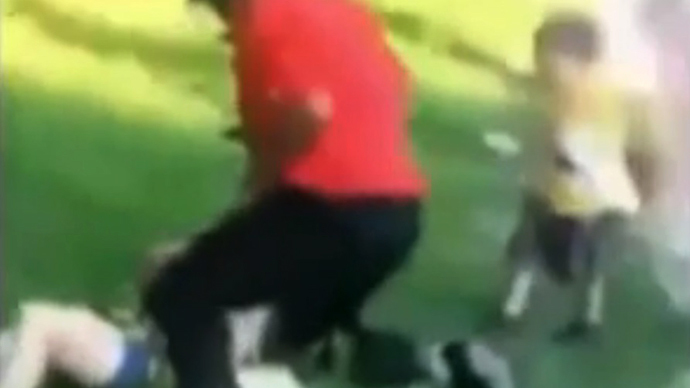 A disturbing video making the rounds on social media shows a fast food employee ferociously beating an unidentified woman as her child tries to stop the violence.
According to CBS Local News, the incident occurred on Tuesday in Salem, New Jersey. Although the attack took place outside, the assailant is wearing what appears to be a McDonald's uniform. Notably, the video shows multiple people also recording the confrontation, with no one but the victim's young child stepping in to stop the assault.
Local police have identified the suspect as 25-year-old Latia Harris, who is believed to work at the McDonald's restaurant near the scene. Her whereabouts are currently unknown – she has not been into work since the incident – but Salem City Police Chief John Pelura III said she would be charged with aggravated assault and two counts of terroristic threats when she is arrested. In the video, the fast food worker can be seen taking the victim – who remains unidentified – to the ground and repeatedly punching her in the face, even kicking her in the back at one point. The victim's toddler is the only one at the scene who tries to stop the violence, and he can be seen crying for his mother and kicking at the attacker to no avail.
After the fast food employee kicks the woman in the back, she also yells, "You better get your son before I kick him in the face too!"
By the time the assault ends, the attacker spits on the victim and asks those recording the incident not to post it on social media. The video ended up on Facebook, however, and police managed to obtain a copy.
Speaking with NJ.com, Pelura criticized the violent episode, in which the fast food worker hits the victim at least 20 times.
"Police in this county deal with this type of violence everyday. Yet, this video is physically sickening to watch," he said on Wednesday.
At this point, it's not known what caused the fight to break out, but according to police, the victim reportedly said a McDonald's employee named "Tia" blamed her for spreading rumors about her and her manager. The victim was bloodied in the face and sent to the hospital, but while Pelura criticized the attacker, he also had some harsh words for the bystanders.
"There is a moral and social breakdown in the fabric of our society which is clearly evident when a woman gets pummeled in broad daylight in front of her child while a dozen people pull out their phones to record the incident instead of calling for help," he told NJ.com. "There is so little regard for human life — by the actor and the bystanders."