New high-tech lampposts in Chicago will collect data on weather and people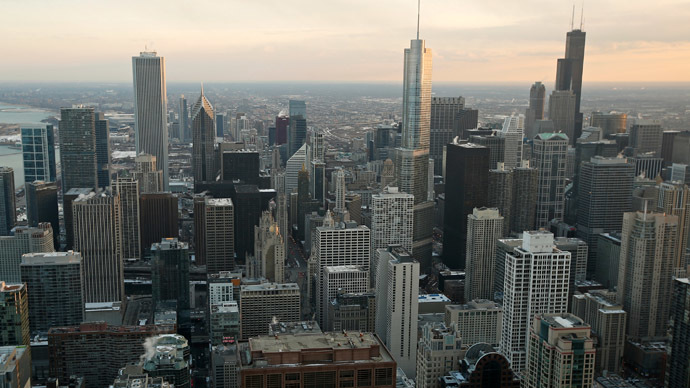 The streets of Chicago, Illinois will soon host some state-of-the-art new technology, but privacy advocates have concerns about certain data collection tools coming to the Windy City.
According to a report published on Monday by Chicago Tribune reporter David Heinzmann, a system of data-collection sensors will start being affixed to light poles and lampposts in the major Midwest hub sometime next month so that researchers and scientists there will have a new way to get their hands on some highly sought after information.
The "Array of Things" project being put together by the University of Chicago and Argonne National Laboratory's Urban Center for Computation and Data will collects details about air quality, light intensity, sound volume, heat, precipitation and wind, according to Heinzmann's report, as well as lay the groundwork for a vast infrastructure that will ideally let this kind of data and even more be collected for ages to come using additional new sensors. The installation of each utility box will cost less than $500, and officials told the Tribune that they'll require less than $15 a piece for annual electricity costs. The technology inside the boxes that hold the sensors were developed with more than $1 million in funding from the likes of Cisco, Intel and others, the Tribune noted.
Last month, John Moore of technology website GCN wrote that all of this data will not only be collected to nodes throughout Chicago, but will also be sent to city computers so officials can scour it when in need of examining data trends as future projects are plotted out.
"Our intention is to understand cities better," computer scientist and Urban Center director Charlie Catlett told the Tribune. "Part of the goal is to make these things essentially a public utility."
Some say that these unassuming sensors have stepped over the line, though, because in addition to weather details and other seemingly invasive data, the "Array of Things" nodes in the Windy City will also look for cell phone signals being emitted by the mobile devices in the pockets of passersby.
In order to get a better grasp on population density within some parts of Chicago, the sensors being installed will also try to make contact with cell phones in order to get a rough number of how many devices — and presumably how many people — pass through a certain area at any given time.
The architects of the project told the Tribune that they are going to great lengths to insure that personally identifiable information isn't sucked up, and said so far that any cell phone signals won't be traceable back to the owner of the device that pings a lamppost sensor.
"We don't collect things that can identify people. There are no cameras or recording devices," Catlett told the paper. Sensors will be collecting "sound levels but not recording actual sound. The only imaging will be infrared," rather than video, he said.
The sensors, Catlett added, "will not save address data, and will only count nearby devices."
Critics say sucking up more data is inevitable, however, and warn that recording even miniscule amounts of information from cell phones could leave enough of a window for abuse to occur.
"If they do a good job they'll collect identifiable data. You can (gather) identifiable data with remarkably little information," Gary King, director of the Institute for Quantitative Social Science at Harvard University, told the Tribune. "You have to be careful. Good things can produce bad things."
"If you spend a million dollars wiring these boxes, and a company comes in and says 'We'll pay you a million dollars to collect personally identifiable information,' what's the oversight over those companies?" asked Indiana University privacy expert Fred Cate.
"Almost any data that starts with an individual is going to be identifiable," Cate said. "You may not care about the fact that it's personally identifiable. It's still going to be personally identifiable."
Indeed, RT has reported extensively in the past about similar up-and-coming technologies that spurred outrage in other locales once considered for adoption. License plate readers that let law enforcement see where automobiles of interest are geographically located have caused concerns in numerous cities and towns across the United States, and lampposts like the ones in Chicago but with the ability to record audio and video has sparked outrage elsewhere.