US senators: Let's bomb Iraq (again…)!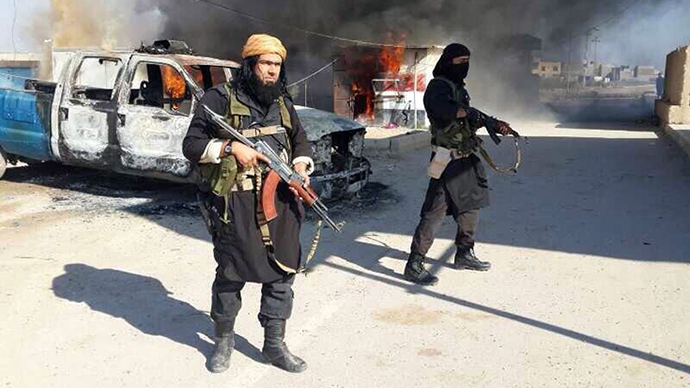 The frenzied advance of ISIS militants in Iraq has prompted some US senators to call for a new bombing campaign against the jihadists and for the Iraqi government of Prime Minister Nouri al-Maliki to step down.
American senators Dianne Feinstein and John McCain are calling for the US to step in again, this time to bomb the groups of ISIS terrorists who have captured a series of Iraqi cities in rapid succession and to kill everyone they regard as a security risk.
According to a new report by the Center for American Progress (CAP), the US should "prepare for limited counterterrorism operations against ISIS, including possible air strikes."
Offensive by Al-Qaeda offshoot ISIS in Iraq
"I think most important is that we take direct action now against ISIS, marching down to Baghdad, and prevent them from getting into Baghdad," said Feinstein (D-CAL), the chair of the Senate Intelligence Committee.
Arizona Senator John McCain also supports the idea of air strikes. After US President Barack Obama announced the deployment of 275 troops to Iraq to provide security for the US Embassy in Baghdad against Sunni insurgents, McCain said that his concern is "whether we're going to do anything besides send a few extra marines, which won't do anything," he said.
Both Feinstein and McCain also defend the necessity of regime change in Baghdad, accusing the acting government of PM Nouri al-Maliki of an inability to curb the Islamist insurgency in the country.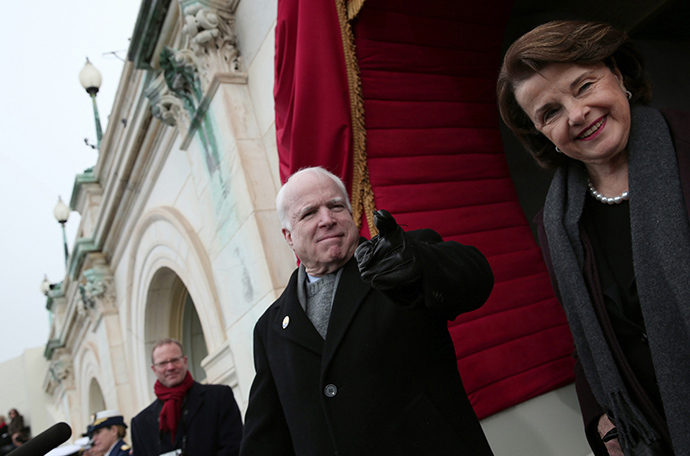 Iraq's parliament approved al-Maliki for a second term as prime minister resident in December 2010. Now Feinstein wants him to step down, to be replaced with a "reconciliation" government.
"I think it's most important that the Maliki government be replaced, and that includes Mr. Maliki, with a reconciliation government," Feinstein said, adding: "Based on all I've heard, read and know, Mr. Maliki is not able to bring about reconciliation in that country."
The Obama administration should send representatives to Baghdad to "work with Maliki and tell him he's got to step down and have a coalition government," McCain said, agreeing with the idea of al-Maliki stepping down.
The centrist Center for American Progress, an organization with close ties to the White House, has urged the Obama administration to protect Iraq from disintegration and to mount a military campaign against ISIS and other extremist groups.
The hard line taken by hawkish American lawmakers appears to coincide with an equally hard line being pursued by the Saudi Arabian government. The Sunni absolute monarchy in Riyadh has always been the biggest opponent of all Shia Muslim regimes in the Middle East, from Bashar Assad's Syria or al-Maliki's Iraq.
That's why Riyadh remains the main sponsor of not only the ISIS jihadist group, but many other radical jihadist groups in both war-torn Iraq and Syria.
Yet not all American lawmakers are ready to embrace the idea of a third US military campaign in Iraq.
Maine Republican Senator Susan Collins questioned that "air strikes would work," expressing the general idea that if NATO was in Iraq, ISIS would not be a problem there.
Former Congressman Ron Paul condemned the current White House's foreign policy, blasting President Barack Obama over a possible US intervention in Iraq.
"They cannot admit they were wrong about the invasion being a 'cakewalk' that would pay for itself, so they want to blame last week's events on the 2011 US withdrawal from Iraq. But the trouble started with the 2003 invasion itself, not the 2011 troop withdrawal. Anyone who understands cause and effect should understand this," Paul wrote.
Last week, Russian Foreign Minister Sergey Lavrov said Iraq spiraling out of control is the result of the invasion carried out by the US and the UK in 2003.

Lavrov noted that 11 years ago, after US President George Bush announced the victory of democracy in Iraq, "the situation has deteriorated in geometrical progression."
"The unity of Iraq has been called into question," Lavrov said. "The rampant terrorism is taking place due to the fact that the occupation troops didn't pay any attention to the interior political processes, didn't help the national dialogue, and only pursued their own interests."
You can share this story on social media: